Baldwin Education Foundation annual luncheon to honor two career educators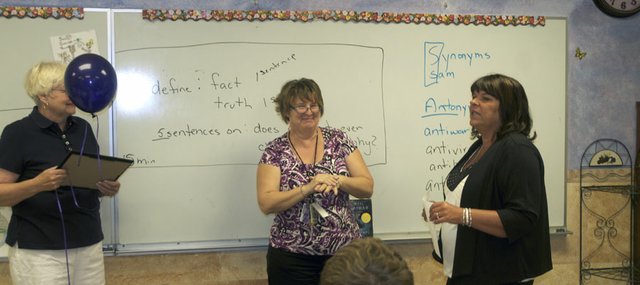 Kathy Gerstner says in its nine years of existence the Baldwin Education Foundation has touched nearly every student in the Baldwin school district.
Friday's annual Baldwin Education Foundation luncheon is the community's opportunity to ensure that effort continues, said Gerstner, the foundation's executive director. The luncheon will be from noon to 1 p.m. Friday at Stony Point Hall, 1514 N. 600 Road.
"It's our biggest fundraiser," Gerstner said. "We have others throughout the year, but it's our largest."
The money raised through the luncheon and other events is used to provide the innovation project grants the foundation awards to Baldwin school district faculty members each September. This year, grants totaling $16,212 were handed out to teachers for such things as iPads for specialized learning applications, a virtual frog dissection program for a seventh-grade science class and help toward funding a summer bicycle camp for special education students.
The amount awarded continues to grow as the need increases with diminished state support for public education, Gerstner said.
"Seniors graduating this spring probably can't remember when the Paws Patrol didn't come around each fall awarding those grants," Gerstner said. "It's really exciting to think about that longevity. I don't think there's a student in the district who hasn't been impacted by one of the innovative projects."
This year, the event will celebrate public education by honoring two Baldwin High School graduates who are making personal contributions in the field through their careers. Recognized at the luncheon will be Brad Neuenswander, deputy commissioner of the Kansas Department of Education, and Dustin Mortenson, principal of Nike Middle School in the Gardner Edgerton school district.
The lunch buffet Peach Madl of The Lodge is catering will open at 11:45 a.m. for those arriving early, Gerstner said. The luncheon will conclude at 1 p.m., she said. Providing entertainment will be junior high school members under the direction of district instrumental instructor Will Cooper, she said.
"The luncheon will be right at an hour long," Gerstner said. "We realize people have other things to do on a Friday afternoon. But it's nice to take the time to celebrate the wonderful things our teachers and students are doing in our schools and the wonderful quality of education we have here in Baldwin."