Baldwin loses heartbreaker in sub-state final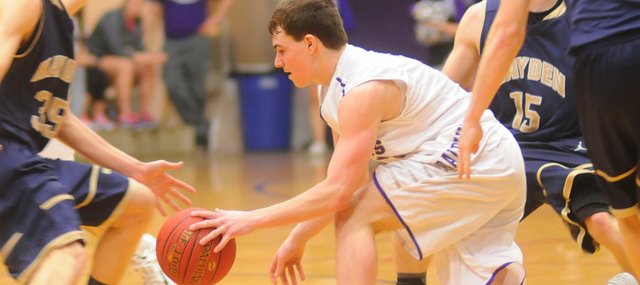 Topeka-Topeka-Hayden came back from five points down with 50 seconds remaining to defeat Baldwin, 42-41, and earn a trip to the Division I 4A state tournament.
Hayden junior Brogan Heinen gave his team the lead when he connected on a NBA range three-pointer with 17.1 seconds remaining.
Baldwin got three shots at the basket on its final possession but saw its season end when they failed to drop.
The heartbreaking ending had Baldwin coach Dustin Leochner second guessing his end-game strategy.
"They did everything we asked them to do," he said of his team. "A lot of it is on me. I should have called timeout and got Chad (Berg) back in the game and set something up. There was plenty of time.
"We've been so good in transition all year long. I thought Cornell (Brown) could get in the lane and get to the line. We had three good looks. We didn't get them to go down."
Hayden's ending charge came after Brown made 1-of-2 free throws with 1:48 to play, giving the Bulldogs their biggest lead of the tightly contested game at 37-31. Hayden quickly cut the lead in half with the first of the team's three three-pointers in the game's final 90 seconds. The two teams would trade empty possessions before Heinen made two free throws with 1:06 remaining, pulling the Wildcats to within two at 38-36.
Baldwin quickly got the points back when senior guard Chad Brown scored off a long inbounds pass from senior Quinn Twombly over the top of Hayden's full-court pressure, giving the Bulldogs a 40-36 edge. Berg would connect on the first of two free throws on Baldwin's next possession, increasing the Bulldogs advantage to 41-36 with 50 seconds left.
Hayden senior Brendon Hutley got the Wildcats back within striking distance 12 seconds later with a three pointer. Hayden set up its game-winning possession by quickly fouling Baldwin's Luke Fursman, who was unable to convert the charities. They were the last of 10 free throws Baldwin missed on 19 fourth-quarter attempts.
The game was a defensive struggle throughout with the first quarter ending with Hayden leading, 6-2. Baldwin failed to score against Hayden's zone until senior Michael Burton followed up a missed shot with 32 seconds remaining in the first quarter.
Fursman's layup after a steal would knot the game at 6-6 at the 7:21 mark of the second quarter. Berg would give Baldwin its first lead of the game with a three-pointer with 1 minute to play in the first half.
The lead changed hands four times in the third quarter before Hayden's Jerod Head put Hayden up, 27-25, with 21 seconds remaining in the period.
"As a whole team, we did a great job on defense," Leochner said. "Tim (Craig) did a great job on defense. Quinn and Luke get a great job of 45 (Hayden center Marcus Meier). He's averaging something like 18 points a game. Jacob Head's put of 40 points and is averaging 20 some points. They didn't come anywhere close to that.
"I don't know if I'll ever have an opportunity like this again. This was a special group of guys, and I told them that. I'm proud of them."
It was the last game as Bulldogs for Berg, Burton, Brown, Craig, Twombly, Ian Kirk and Seth Phillips. Despite the Saturday's close loss, it was a great year for the team. The Bulldogs ended the season with a record of 18-4. They won the Frontier League Championship, the Bulldog Invitational.
Hayden 42, Baldwin 41
Hayden 6 5 16 15 - 42
Baldwin 2 12 11 16 - 41 -
Hayden scoring: Jacob Head 15, Derrick McGeevey 2, Brendon Hutley 6, Brogan Heinen 13, Marcus Meier 6
Baldwin: Cornell Brown 7, Tim Craig 3, Chad Berg 14, Luke Fursman 7, Michael Burton 4, Quinn Twombly 6