Marble Crazy brings marble madness to Bonner Springs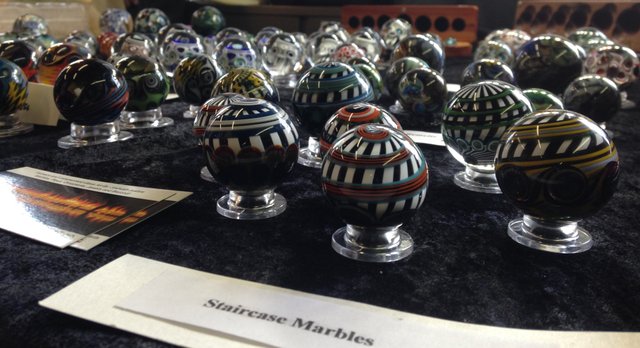 Bonner Springs — Marble Crazy 2014 was marble madness Saturday at the Moon Marble Co. in downtown Bonner Springs.
By 11 a.m., more than 250 people had already taken shuttles from a nearby city parking lot to the store's location off East Front Street, next to the railroad tracks. That number doesn't include the hundreds more who walked from nearby businesses to join in the annual marble madness.
Inside, it was standing room only as dozens more braved the chilly temperatures outside waiting for a chance to get in and view the various marbles on display.
Joshuah Justice, a glass artist from Cleveland, Ohio, said he wouldn't have it any other way.
"This is actually my first year here," he said. "It's been pretty crazy with all the people. Definitely more than I ever expected."
Justice said he got into blowing glass about 15 years ago by making beads and pendants.
About three years into his new hobby, Justice said he started making marbles.
"I really just made them for fun," he said, noting at the time he didn't know there was a big marble market.
It wasn't long before his marble creations were drawing attention that he decided to start selling them.
"Ever since then I've just been having fun blowing glass and making marbles," he said.
Justice handcrafts his marble creations in a shop in his garage.
He said the hardest part of marble making is ironing out techniques and dealing with the frustration of failure.
"You know at some point you are going to get it, but up until that point you're going to have a certain amount of failure that you're just going to have to deal with," he said.
Justice says he is best known for using a dot stack technique to create jellyfish-like shapes within marbles.
"In the process of practicing I was messing around and these jellyfish kind of manifested themselves to me," he said, adding he likes to call them alien jellyfish because they look like something from out of this world.
Through his jellyfish marbles, Justice said he's been able to adapt that technique to create a skull shape, similar to that of the symbol of the Punisher.
"Since I started blowing glass I've been searching for a way to express my love for skulls in glass," he said. "I finally stumbled upon one I really like."
Justice said the best part of the event has been meeting all the marble fans and the artists who create them.
"It's very inspiring to see what everyone else is doing," he said. "I'm really hoping to be back next year."
One of those fans on hand Saturday was 8-year-old Mark Noble and his mother, Lyndsay, from Overland Park.
Mark's father and grandfather are marble enthusiasts who've been collectors for a number of years.
"While they're enjoying the rest of the show, we are looking at all the pretties," she said.
A collector himself, Mark said his collection features about 50 marbles.
"I really like the earth designs," he said.
Another glass artist on hand for Marble Crazy was Sammy Flowers of St. Paul, Minn.
Flowers manned a table near the center of the store where he demonstrated how to make a dichroic galaxy marble.
"Demonstrations like this just add to the overall marble experience," he said.
Flowers, who has attended in years past, said his inspiration for marble making manifested from his own experience first attending Marble Crazy several years ago.
"I just love it, it's the highlight of every year," he said.
Marble Crazy will continue from 9 a.m. to 3 p.m. Sunday at the Overland Park Holiday Inn, 8787 Reeder Road. Admission is free.