Baldwin to play Hayden for state tournament berth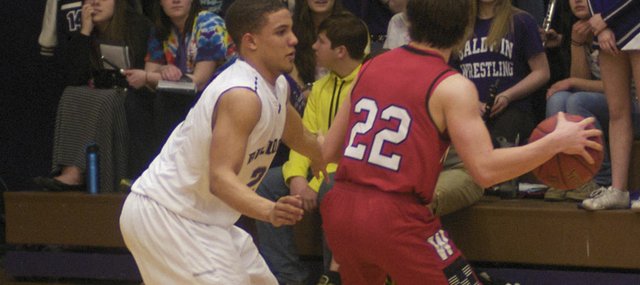 The Baldwin Bulldog boys overcame a frigid third quarter to defeat Wamego, 45-36, and advance the title game of the sub-state tournament.
Baldwin will play Topeka-Hayden Saturday for a berth in the Division I 4A state tournament at Baldwin. Hayden defeated defending 4A state champion Ottawa, 58-53, in the night's second game.
"At this point it's not how you win but if you win," Baldwin coach Dustin Leochner said.
The victory gave Baldwin's seniors their first post-season win. It was a burden that may have been on their mind in the third quarter, when Baldwin could muster only three points. Leochner said the team played a bit tight in the period but kept its composure heading into the fourth quarter.
"We brought them over at the quarter and I told them ' We're fine. We've been here before. Don't do anything crazy.' Sometimes seniors just win the game for you, and that's what happened," Leochner said.
Baldwin started fast in the game, racing to a 12-3 first quarter lead behind senior Luke Fursman's six points. Baldwin's full-court pressure also upset the Red Raiers early.
Down nine, Wamego coach Troy Hemphill switched to a zone, a defense that has challenged the Bulldogs throughout the year. The change slowed Baldwin's momentum, allowing Wamego to claw back within two points at 17-15 at the end of the opening period.
Helping Wamego stay in the game was carelessness with the ball, which contributed to six first-half turnovers, Leochner said.
The defense was particularly good in the third quarter when Baldwin could muster a mere three points. The Red Raiders erased a five-point halftime deficit in the quarter, taking 34-33 going into the final period.
Any hopes of a Wamego upset ended when a re-energized Baldwin defense limited the Red Raiders to just two fourth-quarter points. Meanwhile, the Bulldogs started getting inside the Wamego zone and got a big three-pointer from senior guard Cornell Brown, who tallied seven fourth-quarter points and finished with a game-high 13 points.
Baldwin 45, Wamego 36
Baldwin (19-3) 17 13 3 12 - 45
Wamego (10-11) 15 8 11 2 ¬– 36
Baldwin scoring: Cornell Brown 13, Tim Craig 6, Chad Berg 5, Luke Fursman7, Michael Burton 4, Quinn Twombly 10
Wamego: TenEyck 2, Ayres 9, York 10, Adderson 9, Miller 3, Blain 3
Three-point baskets (Baldwin) Brown 1, Craig 2 (Wamego) Ayres 2, York 2, Blain 1