Reserve brings heart to Baldwin High School's championship basketball team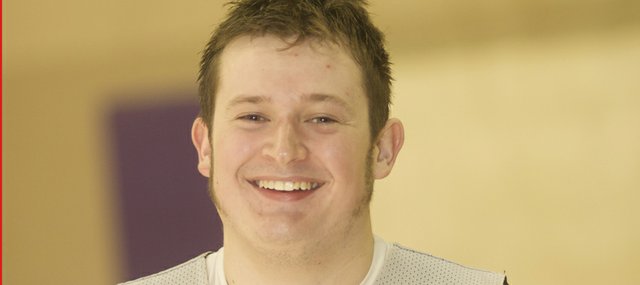 There's nothing about the appearance of Baldwin High School's Ian Kirk to suggest why he should be a part of the school's Frontier League championship team.
Even the 5-foot, 10-inch, 240-pound senior will chuckle in acknowledgement that he doesn't have the svelte or muscled frames of seniors Cornell Brown, Chad Berg, Michael Burton, Tim Craig, Luke Fursman or Quinn Twombly, who are the nucleus of this year's team.

Bulldog boys basketball coach Dustin Leochner said Kirk wasn't the most talented or gifted athlete, but there was never any question he would survive cuts to make this year's squad. In explanation, Leochner notes Kirk is the only player on the team with a practice drill named in his honor.
That honor traces to Kirk's participation in a rebound drill then called the "meat grinder." The drill puts three players in the free-throw lane and the only way out is to rebound the ball and put it back through the hoop.
"When Ian was a sophomore he got caught in the meat grinder for a solid four or five minutes and literally collapsed on the floor at the end of the drill," Leochner said. "Coaches and players helped him back up and applauded his effort and never-give-up attitude. From that point forward, the drill has been renamed the 'Kirk-Grinder.' He wears it as a badge of honor. That's Ian Kirk, and that's what he means to this team.  
"The guy may lack for talent and physical gifts but puts forth the maximum amount of effort and never throws a pity party for himself."
He went out for basketball so that he can stay in shape for baseball and to be with his friends, Kirk said. Those bonds of friendship were forged in the neighboring homes of teammates Quinn Twombly and Chad Berg, son of Baldwin High School football coach Mike Berg.
He has played on various teams with his fellow seniors since the third grade, Kirk said, and Berg coached many of those.

Kirk "will always be one of my favorite players," coach Berg said.
"Ian is the best teammate that a coach and player could ask for," he said. "Ian was the guy we built our team around. He always held his teammates accountable by encouraging and motivating them, calling them out when they made a mistake and being there when they needed someone to talk to."
As Kirk's sophomore junior varsity basketball coach, Berg also has an Ian Kirk story and it, too, involves rebounding.
"We were playing Ottawa at their place for the third time in our season," Berg said. "We lost the two previous games, and it looked bleak the third game when our big men got in foul trouble. I remember putting Ian in the game, and he had to go against guys who were 6 inches taller. He did an awesome job keeping them out of the lane and getting every rebound off their misses. We ended up winning the game, and Ian was a big reason why."  
Kirk played on Berg's football teams the last four years. As a senior, he got meaningful minutes on the team that had an undefeated regular season and advanced to the quarterfinals of the 4A state playoffs. He played some as a junior when the Bulldogs had a big lead, but that wasn't his team role, he said.
"I was the guy on the sidelines who kept everyone involved and motivated."
That defines his role on this year's basketball team, too, Kirk said. He's the cheerleader with a ringside seat to the action. But his exuberance sometimes draws unwanted attention, such as when referees frowned on his exclaiming "and one" when a teammate was fouled while scoring or warning Bulldogs when opponents were setting screens.
"I get a little bit carried away," he said. "In the De Soto game, I was shouting out screens to our guys. The ref thought I was yelling 'moving screen' and showing him up. Coach told me he threatened to give me a technical. It made me feel bad, so I went to the ref during a timeout and explained to him what I was doing. It was all good after that."
Kirk will enroll at Wayland Baptist University in Plainview, Texas, next fall, where his father Mark Kirk, formerly with the Baker University theater department, now teaches. He will receive free tuition because of that relationship and plans to play football at the school, he said.
It's a step that will take him far away from his high school friends, and Kirk is aware the clock is ticking on the daily camaraderie with his teammates and a senior class he says has no divide between jocks and the rest of the student body.
"There was a little bit of that our freshman year with the seniors," he said. "We wanted to be different and be role models for underclassmen. The whole senior class is tight, not just athletes."
He might be the ambassador to that outreach with his involvement in multiple school activities. Kirk plays trombone in the school band and has had parts in the school's musicals and plays.
A year ago as a junior varsity player, Kirk sat with fellow students on the other side of the court during varsity games. Tapping into his theatrical roots, Kirk always pushed the envelop when students dressed for games as farmers, nerds or other themes, inviting comment from visiting fans.
"I just have my own personal style," he said. "I wear bright colored clothing. I don't really care if people make fun of me. I just shrug it off."
This year, the student body has made Kirk a favorite. If the Bulldogs have a comfortable late-game lead, BHS students can be counted on to start chanting his name as a cue for Leochner to get him on the floor.
"It was shocking at first because I wasn't used to it, but now it just cracks me up," he said.
The students cheer loudly every time Kirk rebounds, makes a pass or gets a steal, but go silent when he has a chance to score. So far, he hasn't rewarded them with a basket from his signature hook shot or up-and-under move.
There's a chance he'll get another opportunity in tonight's sub-state opener against Wamego.
"The hook shot is definitely my favorite, but I keep fading away too much," he said. "I can just hear everybody catching their breath ready to explode. I'm hoping I score Friday."