Renovated downtown building's dedication, ribbon cutting today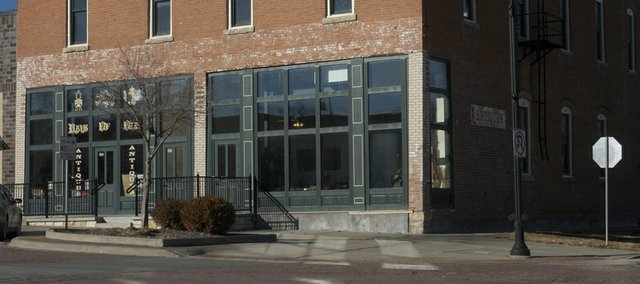 Baldwin City residents will be able to tour the results of three years of work at a ribbon cutting and open house today at the historic downtown building at 600 High Street.
The partnership of Rick Deitz, Bill Harmon, Dave Hill and Alan Wright, or DWHH LLC, will host the twin events to celebrate the completion of the three-year project to renovate the building. The open house will start at 4 p.m. with the ribbon cutting and dedication scheduled for 5 p.m. and activities will continue until 7 p.m.
Those attending will be able to tour the two commercial spaces in the 4,750-square-foot ground floor, now leased by the East Central Kansas Cooperative in Education and Days of Old Antiques, as well as the Palmyra Loft apartments in the second floor. They will also be treated to live music from the Michael Champayne Jazz Band and food and drink provided by Sandbar Subs and Peach Madl.
Hill said the partners have the ground floor space leased for the next three years and two of the four apartments rented.
Hill said the lengthy restoration of the two-story brick building built in 1894 was the result of the partners' determination to do it right. He credited Wright, who served as construction manager on the renovation, with the project's success.
Wright took care to ensure the building was renovated to a period-correct appearance, Hill said. Its period features include restored wood floors and a late-Victorian storefront with windows that provide plentiful natural light to ground floor interiors.
Although the appearance is true to the building's roots, the renovation ensured it is highly energy efficient, Hill said. The structure was highly insulated and high-efficiency heating and air conditioning units installed.
In November 2010, the partners approached the Baldwin City Council with a plan to save the building just days before the city was to have it demolished. The council agreed to provide a $25,000 grant to help with the renovation project.
Hill said the agreement was a win-win for the city, because the grant was less than the cost of the building's demolition and the restored building is now generating tax revenue for the city.