Hayden ends Baldwin girls season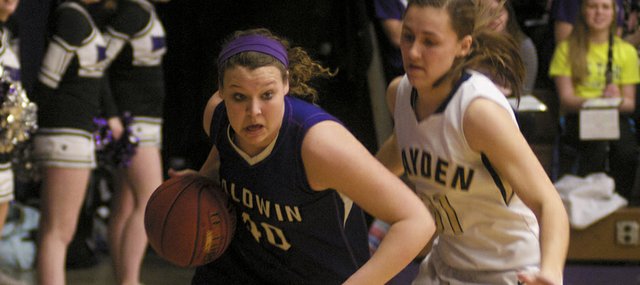 The Topeka-Hayden Wildcats used an 11-2 run at the start of the fourth quarter to pull away from Baldwin and earn a 57-47 opening round Division 1 4A sub-state victory.
The game was close throughout the first three quarters, with the lead changing hands four times and tied at the ends of the first and second quarters.
The Baldwin Bulldogs started fast and held the lead throughout most of the first quarter. But turnovers against Hayden's relentless full-court pressure prevented the Bulldogs from separating from the Wildcats.
"Against them, you know you're going to turn it over some," Baldwin coach Bob Martin said. "You've got to make sure it doesn't hurt you when you do. We had some turnovers in the fourth quarter they ended up scoring from. Until then, I thought we did a good job of avoiding that."
Martin said Hayden used of variety of presses against his team. The Wildcats didn't wait until made baskets or dead-ball situations to jump into the press, but would immediately double-team when Baldwin cleared the defensive glass.
The strategy worked to get Baldwin's Corey Valentine in early foul trouble as the Wildcats drove to the basket after steals. Hayden shot 10 first-quarter free throws but exposed its weakness at outside shooting when the Wildcats made only four of them.
To take advantage of that and protect his team for further foul trouble, Martin had the Bulldogs fall into a zone defense in the second quarter. It worked as the Wildcats failed to connect from the outside.
Hayden adjusted at halftime and threw over the zone to open weak-side players early in the third quarter, but it was two quick baskets off full-court pressure, which allowed the Wildcats to take the lead for good after a 26-26 tie with 2:45 to play in the third quarter.
That pressure and Hayden's ownership of the offensive glass proved the difference in the deciding fourth quarter, which opened with Hayden leading, 35-34. In a two-minute span starting with 7 minutes to play, the Wildcats got two shots down after offensive rebounds and scored following a steal on the press to increase its lead to 46-36.
Baldwin cut Hayden's advantage to 46-41 with 3:31 to play behind a three-point basket from guard Katie Jones, who had a game-high 18 points in her last game as a Bulldog, and two free throws from junior Corey Valentine. But Hayden then ran more than a minute off the clock before getting two free throws from junior Bree Schmidt and another quick basket off a turnover to regain a double-digit lead with 2 minutes remaining.
"I think we got worn down," Martin said. "They're a good team. Their losses are to Manhattan, the No. 1 team in 6A and Seaman, the third-ranked team in 5A.
"I'm disappointed in the loss, but extremely proud of our effort."
It was the last game for seniors Jones, Hailey Cope and Karina Steinke.
"Our seniors did a great job for us all year," Martin said. "I couldn't be more pleased with them."
With the win, Hayden will play defending 4A state champion and undefeated Wamego at 6 p.m. Friday at the BJHS gym. Wamego downed Ottawa, 49-26, to advance.
Topeka-Hayden 57, Baldwin 47
Hayden (17-4) 10 6 17 22 – 57
Baldwin (12-9) 10 6 16 13 – 47
Hayden scoring: Bree Schmidt 13, Hailey Hobart 2, Miranda Beck 5, Grace Kinman 2, Raven Lawlor 6, Jordan Lenherr 17, Kirah Lohse 10, Julia Stringer 2,
Baldwin: Madeline Ogle 6, Madeline Neufeld 3, Katie Jones 18, Kyna Smith 2, Corey Valentine 4, Alexia Stein 11, Hailey Cope 3
Baldwin three-point baskets: Jones 2, Cope 1; Hayden Lohse