Miss Barbara relives kindergarten during five years of entertaining Baldwin City children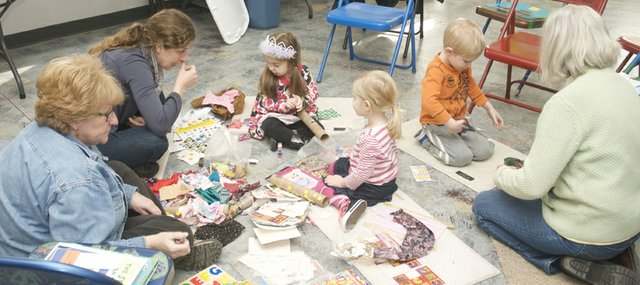 The ongoing construction to expand the Baldwin City Public Library hasn't put a stop to the popular weekly Storytime with Miss Barbara, but has temporarily relocated it down High Street at the Lumberyard Arts Center.
Spread out Wednesday on the floor of the Lumberyard were Barbara Mathews and a group of two adults and three children, all busy crafting decorative rattles from repurposed cardboard paper towel cores.
Mathews, aka Miss Barbara and children's librarian for the library, said attendance at the weekly storytime was down with the relocation.
"We usually have 20 to 25 at the library," she said. "I think some of the parents have trouble finding us or are concerned about parking."
The meager numbers didn't bother the three children present, 2-year-old Henley Kueffer and her 4-year-old brother Lash Kueffer, who came with their grandmother from Topeka, Kay Payne, or 4-year-old Leah Southard, in attendance with her mother, Wendy Southard. They reported with enthusiastic nods to having enjoyed listening to Mathews read "The Wheels on the Bus" and its sequel, "The Seals on the Bus."
"We are regulars," Wendy Southard said. "We walk down every week. We always wonder what crafts we are going to make. We have a good collection of crafts from here at home."
Fewer children meant more hands-on attention from Mathews, who made sure they had plenty of decorations for their rattles and inquired whether they were ready for snacks.
It's her fifth year on the job she got after filling out an application to become children's librarian, Mathews said.
"I was in the library and saw a sign saying their was an opening for children's librarian," she said. "It was the easiest application I ever filled out. All it asked was your name, address, phone number and a list of any relevant experience. You could write anything you wanted."
Her relevant experience was past experience teaching in Kansas City, Mo., alternative schools, substitute teaching elsewhere, making in-home visits to teach patients how to make insulin injections and — despite the Miss Barbara handle — raising four children, Mathews said.
"I'm kind of reliving my childhood, doing all these crafts and reading children's books," she said.
It might appear a low-stress job, but that doesn't take into account the hectic summer schedule when storytime coincides with summer reading, which can draw nearly 100 children. Last June, she was required to do some last-minute improvising when she woke to a severe storm thunderstorm forecast on the day Claudia Hey was to visit the library with her alpacas. Mathews said the animal visits were quickly moved inside through the use of barrowed cattle gates to fence off a section of the library's activity room.
 Miss Barbara got her own lesson from the experience.
"I learned alpaca poop is little pellets like rabbit poop and easy to clean up, which I was very happy about," she said.