Four
BHS

musicans chosen to state honor band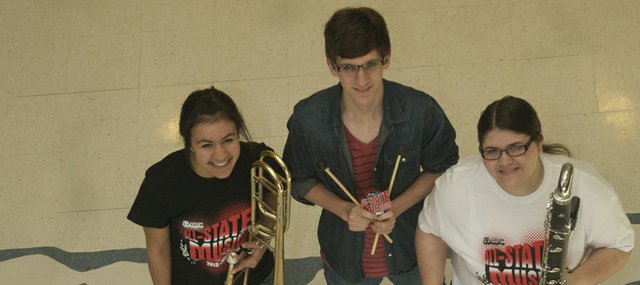 The sixteen long hours of rehearsals they endured before their performance Saturday in Wichita were enough to make Megann Lawrenz, Kymbr Simmons and Taylor Wallis question their decisions to seek a seat on the state honor band.
The three Baldwin High School students said any doubt washed away when they started performing the first of six pieces at the concert in Wichita's Century II Convention Center as members of Kansas Music Educators 1-4A State Honor Band.
"By the first note we played, we knew we were going to be a great band," Lawrenz said. "You look around and say, 'I'm here. I'm one of the best.' I think that's why we play. You get to play great music with other great musicians and get to play it beautifully."
With sophomore Lawrenz on trombone, junior Simmons on contra clarinet and junior Wallis joining the percussionists, Baldwin High School was one of only a few schools to have three students selected for the band, Simmons said. The students were first selected to the district band and then auditioned for their seats on the honor band.
Also representing Baldwin High School in Wichita was senior Cassidy Markley, who earned an oboe seat on the state orchestra.
It was the second straight year four musicians have represented the school on the honor band or orchestra and a return trip for Simmons and Markley.
With her experience from a year ago, Simmons judged this year's clinician, Kart Seville, professor of music education and the associate director of bands at Brigham Young University and past head of the Washburn University music department, to be a bit more of a taskmaster during the Friday and Saturday rehearsals.
"I do think we were pushed a little more," she said. "I know I prepared more, knowing what I was getting into. This time, I actually looked at the music beforehand."
Lawrenz said the demands were in the details.
 "I think it was just the little things," she said. "He wanted to get them exactly right."
The students responded to the demands, Wallis said. He noticed an attitude among fellow percussionists he brought back to BHS.
"It was really great being with all the other percussionists because here we didn't maybe take things seriously," he said. "But in the honor band, everybody wanted to get things right."
Baldwin High School band director Will Cooper said the trip would only increase the students leadership within the band.
"All four of the students are very dedicated and talented," he said. "They have a special focus and talent for music and are leaders in the program. Kids like that start to build a successful model that others want to imitate so they help grow and sustain the program."
Still ahead this year are solo and ensemble regional and state competitions and two more school concerts, the students said. But all three are already looking forward to earning places on the honor band again next year.
"There's not too many three-year participants," Simmons said. "It's a big deal."