Baldwin girls, boys to host sub-state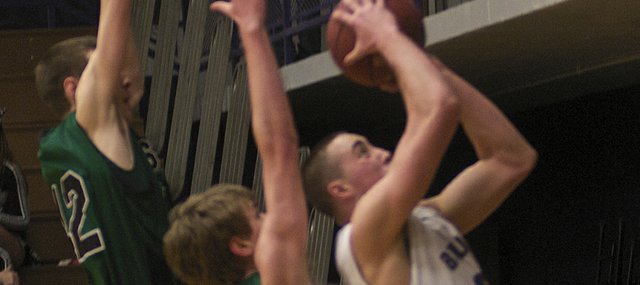 The Baldwin High School boys basketball team will have the opportunity Friday and Saturday to win its third tournament champions of the season on its home court.
Baldwin High School will host a four-team 4A Division I Sub-State Tournament Thursday, Friday and Saturday at the Baldwin Junior High School gymnasium. Bringing boys and girls teams to the tournament will be Baldwin, Topeka-Hayden, Ottawa and Wamego high schools.
The tournament will start with girls action on Thursday. First up will be No. 1 seed and defending state champion Wamego (20-0) against Ottawa (10-9) at 6 p.m. Baldwin girls basketball coach Bob Martin said Wamego has to 6-3 "very good" players inside and would be a fun team for local basketball fans to watch.
At approximately 7:30 p.m., Baldwin the No. 3 seed with a 12-8 record will play No. 2 seeded Topeka-Hayden (15-4). Hayden record is impressive because it plays a schedule studded with 5A and 6A teams.
Thursday's winners will tip off for the right to go to state at 6 p.m. Saturday.
Boys sub-state action starts a 6 p.m. Friday when No. 1 seeded Baldwin (17-3) plays No. 4 seeded Wamego (10-10).
Playing the late game at approximately 7:30 p.m. is No. 2 seeded Ottawa (13-7) and Topeka-Hayden (10-10).
First-round winners will play for the sub-state championship at about 7:30 p.m. on Saturday.
Baldwin High School boys coach Dustin Leochner said he was happy to have the early game Friday so that his team gets a bit more rest should it win and watch what he hoped would be a very hard-fought game between Ottawa and Hayden.
The Bulldogs won the early season Bulldog-Wildcat Classic and mid-season Baldwin Invitational Tournament in the BJHS gym but to add a third tournament title this season the team will have to do something it hasn't been able to do the last two years — win a post-season ballgame. Leochner said he was taking nothing for granted. Ccoaches reminded the team of the lack of post-season success throughout summer drills and during practices this season, he said. For all their success this season, the eight Bulldog seniors have not won a sub-state game in their careers, he said.
The tournament should have a good atmosphere with Ottawa's track record of bringing large numbers of fans to Baldwin City and Hayden's history of traveling well, Leoncher said.
Ottawa lost two-straight road games last week after defeating the Bulldogs in Ottawa on Feb. 21. Hayden so-so record reflects its many games against 5A and 6A competition, Leochner said