Douglas County wheat harvest looks promising early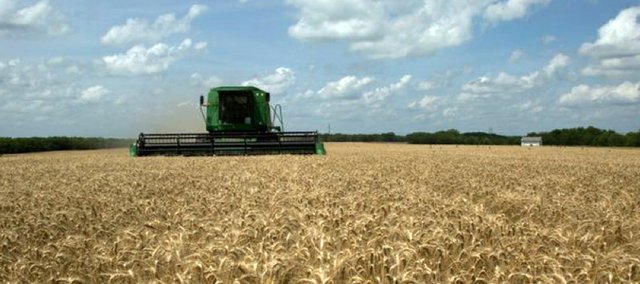 Bill Rice says this year's wheat crop is probably the best he's seen. And that's saying something, given that Rice has been farming the same land west of Baldwin City since the 1960s.
"The wheat here looks like it's going to make 50 bushels (an acre) for us, and that'll be great if it does," said Rice, 87. "This is probably as good of wheat as I've ever raised. It's a good wheat crop this year."
While the wheat being harvested in much of the rest of the state has been of poor quality, owing to years of drought, early returns in Douglas County appear promising. Area elevators are reporting that early test samples look good.
The Douglas County wheat harvest is off to a slow start, however, as recent rains have delayed the harvest for many local farmers. Wheat is Douglas County's third largest crop (9,400 acres in 2013), according to the U.S. Department of Agriculture, trailing soybeans (33,100) and corn (26,100).
"We've only gotten about five or six loads of wheat total so far," said Chris Hetherington, who manages the south Lawrence grain elevator at 20th Street and Moodie Road. "The weather hasn't been cooperative yet. The ground's wet, then the wheat itself has got too much moisture in it. If it gets some sunshine, lets things dry up, we'll be going good by Monday."
Steve Wilson, of Baldwin Feed Co. in Baldwin City, said that while not a lot of area farmers are growing wheat this year, he estimated that about one-third to half of the local harvest is complete. Farmers were out in the fields cutting wheat late this week, though some areas were still too wet from the earlier precipitation.
"Three or four more good harvest days, we'll probably get quite a bit of it done," Wilson said.