Baldwin City native among three designated
KU

distinguished professors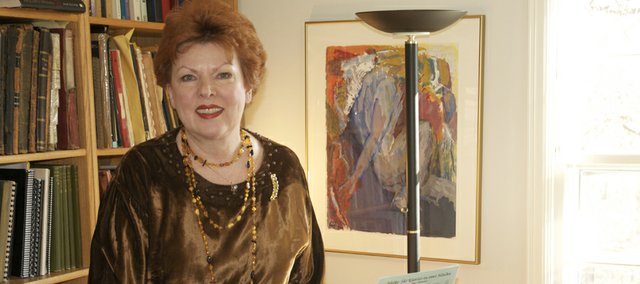 Three Kansas University faculty members, representing a broad spectrum of academics, have been named University Distinguished Professors, KU officials announced Thursday.
Receiving the title were Joyce Castle, a globally acclaimed opera singer; Rolfe Mandel, an internationally known geoarchaeologist; and Jorge Soberon, a leading ecologist.
"Professors Castle, Mandel and Soberon are three of our most esteemed faculty, and their receiving this title is a reflection of their many accomplishments and contributions to KU, ranging from excellence in the classroom to ground-breaking research," said KU Provost Jeffrey Vitter.
Castle is currently in Brazil reprising her Grammy Award-winning performance in "Candide."
Her repertoire includes nearly 140 opera roles over four decades.
A graduate of KU, Castle said, "It has been a great gift to return to campus as a professor of voice and contribute to the development of students in the School of Music while supporting their aspirations ­— essentially, to 'make their gardens grow.' "
Mandel's work as a cutting-edge researcher and teacher has won praise worldwide.
He uses geography, geology and other sciences to produce predictive models for locating and assessing archaeological sites.
"I have spent much of my career applying the geosciences to archaeology, and now I am turning to other issues with global implications, such as understanding how future climate change may affect modern landscapes and, most importantly, humans," Mandel said.
Soberon is a research scientist at the Biodiversity Institute and professor in the department of ecology and evolutionary biology.
His work has spanned a vast area of environmental research, such as genetically modified organisms, invasive species, cultural heritage and indigenous rights.
Hired in 2005, Soberon said he has heeded the advice of former Provost David Shulenburger who told him to "form good citizens."
Soberon said, "These words have been in my mind since then, and I have reflected a lot about their meaning. They mean that you are expected to do much more than just teach good classes, and I have tried my best."
About 60 faculty members have received the title of University Distinguished Professor at KU. A committee reviews nominations and forwards recommendations to the provost for final approval. With the designation comes at $15,000 pay raise.
Major criteria for selection include scholarship, participation in university, professional and community affairs, and the success of their students.