Two Baldwin City precincts will share polling site for primary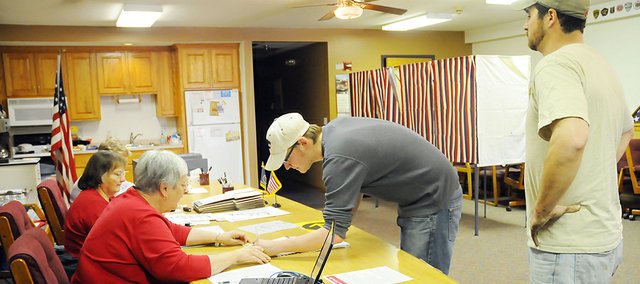 The majority of voters in Baldwin City will vote at a new polling site starting with the Aug. 5 primary election.
Douglas County deputy elections clerk Benjamin Lampe said voters of precinct 60 and 62 will vote at the Lumberyard Arts Center, 715 High St. In recent elections, the Baldwin City Fire Department station has served as the polling site for precinct 60, and precinct 62 had used the Baldwin City American Legion Post. Precinct 61 will continue to vote at Baldwin Junior High School.
Registered voters in precincts 60 and 62 received letters last week informing them of the change. The two precincts include all of Baldwin City, except those areas north of U.S. Highway 56 and west of Sixth Street that are in precinct 61.
Lampe said the switch in polling sites wasn't made as a cost-savings measure but as a matter of convenience with the Lumberyard being halfway between the previous two polling sites. The Lumberyard also had more space available for voting, Lampe said.
"We really like the Lumberyard Art Center's plaza," he said.
All the county's polling sites are re-evaluated after every election cycle, but the change will continue through the November general election and the city/school board elections of 2015, Lampe said.
There are two deadlines looming for the Aug. 5 primary.
Unregistered voters wanting to participate in the Aug. 5 primary have until July 15 to register.
New this election cycle, those voters wanting to make changes to party affiliations must do so before July 1, the day before advance voting begins for the primary.
Douglas County Clerk Jamie Shew said in a statement issued earlier this month that rules regarding party affiliation changes were complicated in this election cycle by a new statute the Kansas Legislature passed this year. The statute forbids Kansas voters from changing or dropping party affiliations from June 1 through Sept. 1 of primary years. Shew wrote the law doesn't become effective until July 1, so those wanting to change or drop party affiliation on Monday or before would be permitted to do so.
Shew wrote the new law doesn't prevent unaffiliated or first-time voters from declaring party affiliations during that time period. Unaffiliated voters can make written declarations of party affiliation on Election Day or when advance voting and receive primary ballots for their new party.