Baldwin City's Optimal Living Meals proving popular with busy customers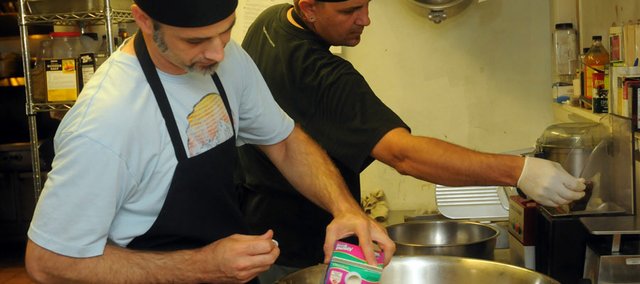 As its first customer, Amelia Rodrock knows what those ordering from Optimal Living Meals want.
OL Meals, which prepares healthy meals for home delivery or pick up, grew from a request she made of the former chef at Baldwin City's Antonucci's Italian Restaurant to help her cope with a schedule that included hours at her Lawrence chiropractic clinic and workouts for figure fitness competitions.
"When you prep for competition, you spend about 20 hours a week on food preparation," she said.
Others who trained with or competed against her saw the meals prepared at the restaurant she and her husband, Baldwin City chiropractor Jeremy Rodrock, owned and started making requests for the service, she said.
They subsequently found there was a wider appeal for the service with its emphasis on convenience and fresh, healthy meals prepared from locally produced food. They now have about 45 customers from the Kansas City metropolitan area and west to Topeka with most being from Lawrence and Baldwin City, Jeremy Rodrock said.
Customers include busy singles, seniors, families looking for nutritious meals and athletes, he said.
"We have a lot of athletes," he said. "We have college athlete and can brag we have professional athletes who have seen the benefits of our foods. They are looking for the next edge. They can train as hard as they want, but find they need good nutritious food to reach their goals."
The service has proved so successful that the kitchen at Antonucci's is busier than ever despite the Italian restaurant closing its doors in December to traditional customers. At that time, Brian Strecker left a position as executive chef at Pachamamas in Lawrence to join OL Meals as chef. Strecker graduated from the Scottsdale Culinary Institute (now Le Cordon Bleu) in Arizona before working as a chef at YaYa's EuroBristo in Wichita and Pachamamas the past 13 years.
He brought with him contacts with many of the local produce growers and livestock producers who supplied Pachamamas, such as Jim Johnson of Lone Star Farms and Voigts Farms. The emphasis is to prepare nutritious breakfasts, lunches and dinners made from as much locally produced foods as possible, Strecker said.
"Everything is gluten and dairy free," he said. "We don't use refined sugar or genetically altered stuff."
Customers can order a la carte or from a weekly meal plan. In addition, families can make bulk per-pound orders. The service does not require a contract.
"We're totally here for convenience," Jeremy Rodrock said. "We aren't looking to bind somebody up in a contract. We hope when people get busy, they will look at us. We know how easy it is to go for that quick meal at a fast-food place."
Strecker said he prepares about 380 to 400 entrees weekly, 80 salads, 20 soup servings and 100 breakfasts.
Orders can be placed through the company's Web site, olmeals.com, called in or placed in person, Strecker said. Customers have the option of picking up meals in Baldwin City, at Amelia Rodrock's Lawrence clinic or have them home delivered for a charge, although customers willing to deliver meals to others can avoid the delivery fee, Strecker said.
Breakfasts costs about $4, while dinners cost from $8 to as much as $12 for those with more exotic seafood entrees.
"For the cost of going to a fast-food place or dining out, you can get a meal of the quality I prepared at Pachamamas," Strecker said. "In less than three minutes, you can have a restaurant-quality meal."
Trisha Brabender, of Lawrence, is convinced the service saves her and her husband, Todd, money. They started using the service about a year ago because she was having difficulty preparing right-sized meals once their daughter left for college.
"I've always tried to cook healthy, but I was wasting so many vegetables," she said. "We feel like we're saving money and saving time. I'm not shopping near as much."
A look at the entrees on this week's online menu shows the type of foods OL Meals offers. Among the menu items is pan-roasted Great Lakes walleye, summer squash ragout, Cuban pork tamales and smoked Kansas beef short ribs.
"It's gourmet food," Brabender said. "Oh my gosh, I love the sweet potato jambalaya. They have an eggplant lasagna. We're not vegetarians, but Amelia said I should try it. The last time they served it, I ordered six of them.
"I find myself eating their entrees for breakfast. It's good food, so I don't think it makes any difference when you eat it."
In addition to providing the meals, the Rodrocks provide one-on-one nutrition counseling and occasionally host Dinner with the Doctors.
OL Meals has a booth at the Studio Alpha gym in Lawrence and is looking to expand to one in Wichita, Strecker said. The service is also looking to place meals in select grocery stores as a fresh alternative to frozen health meals, he said.
All the growth has the service stretching the limits of the old Antonucci's kitchen, although Jeremy Rodrock said he and his wife "have a strong desire" to keep OL Meals production in Baldwin City.
"It keeps growing as word gets out," Jeremy Rodrock said. "It's overwhelming at times. We are growing to where we could outgrow that facility."