Baldwin board reviews draft capital outlay plan in advance of budget considerations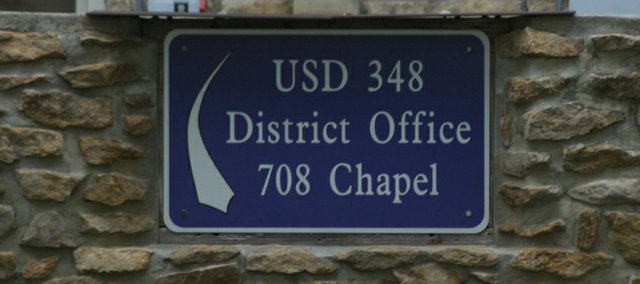 As has been the recent custom, the Baldwin school board was presented last week with a first draft of the district's capital outlay plan in advance of July's 2014-2015 fiscal year budget considerations.
The draft that district financial operations director Cynde Frick shared with the board on June 17 broke out budgets of both 7 and 8 mills for the capital outlay fund. The district has the authority to levy up to 8 mills to support capital outlay, but boards in recent years have chosen to set the levy at 7 mills.
A levy of 7 mills would raise an estimated $1.056 million in revenue for capital projects in the 2014-15 school year. That includes $162,471 in additional state aid added in response to the Kansas Supreme Court order that the state resume capital outlay equalization payments to smaller school districts, which were stopped during the start of the recession.
Big tickets items on the draft list for the coming year are $180,000 for buses and vehicles slated to be replaced in the district's rotation cycle, $140,000 for new computers, $115,000 to replace the floor in the Baldwin Junior High School gymnasium and the district's annual iPad lease payment of $96,000.
Superintendent Paul Dorathy explained the junior high gym project was on the list because of multiple dead spots in the court and word from the contractor the last time it was sanded and refinished that it could not be sanded again. The story was the floor suffered heavy water damage soon after the gym was completed and the school board at that time decided to use the insurance settlement for other projects, he said.
The draft Frick shared with the board slated the looming expensive roof repairs to the high school and Baldwin Elementary School Intermediate Center for 2016-17 and 2018-19 fiscal years. Those repairs have an estimated cost of $775,000.
After hearing a summary of the draft plan, the board approved 360 Energy's request to bid $313,000 in energy saving lighting and plumbing projects at district schools. In making that decision, it was agreed 360 Energy would bring back bids and a financing plan for the board to consider at its July meeting.
Joseph Hurla of 360 Energy estimated the new improvements would save the district $46,000 a year.
Two years ago, the district entered into an agreement with 360 Energy that had the district and company share in the savings from the firm's recommended energy efficiency upgrades. The next round of efficiency changes would be handled differently, with 360 Energy serving as general contractor for the recommended outside and interior lighting changes and plumbing retrofits.