Regulars know ups and downs of Baldwin City Farmers' Market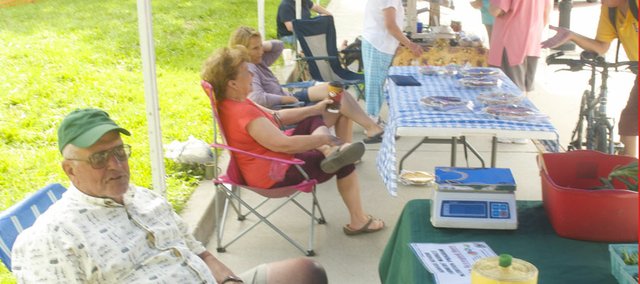 Saturday was a slow day at the downtown Baldwin City Farmers' Market.
"Last week was great," said Linda Hoffman. "I think people are vacationing or taking the week off."
Hoffman is well acquainted with the ups and downs of the local farmers' market, which is from 8 a.m. to noon Saturdays from May through October. For years, the Edgerton woman has been bringing her homemade jams, jellies and breads and the salsas her husband, Pete, makes to the market on the north sidewalk of 700 High St. Hoffman is there with her table on Saturdays in the months before and after Ivan Huntoon sets up the blue canopies for vendors during its official May through October run.
"I've been here before Christmas, but I only come through November now," she said. "There are people here in December."
Under the canopy just west of Hoffman were the pie-making team of Charlene Hannon and her mother, Charlene Potter. With a reputation for their tempting fruit and pecan pies, which Potter said were mostly made these days by her daughter, they weren't as affected by the slow walk-up day.
"I think we've sold about 17 or 18," Hannon said, as she made a count to confirm the number 18. "That shows you how good of bookkeepers we are."
Saturday's other vendor, Jim Johnson of Lone Star Farms, was the only one with fresh produce in the form of spinach, peas and "really nice onions. They surprised me how big they got so early."
He supplies a number of restaurants with produce but isn't a big producer of the three products he and other vendors agreed were the big summer draw of farmers' markets — tomatoes, sweet corn and cucumbers. Those will start showing up at the Baldwin City sidewalk market in July, they said.
"I grow only heirloom tomatoes," Johnson said. "That sets me apart. I got frozen out a couple of times. I'm not looking for them until the middle of July."
His farm on the bottoms of Washington Creek in Lone Star tends to experience late freezes, Johnson said. An April freeze also robbed him of his most dependable cash crop.
"I have an orchard with about 50 to 70 apple trees and 30 peach trees," he said. "A freeze hit the peach buds before they even had a chance to flower. That's the easiest thing to sell there is. One day last year, one customer came and bought all the peaches I brought. You can't beat a day like that."