IPad use now integral at Baldwin High School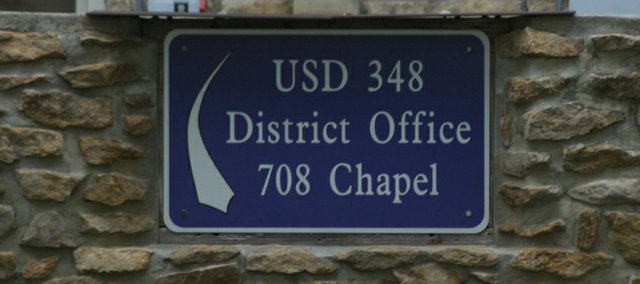 IPads have become so important at Baldwin High School that it is essential that problems are addressed early to maintain teacher enthusiasm for using the devices in the classroom, the Baldwin school board was told Tuesday.
Baldwin High School Principal Rob McKim gave the board an update Tuesday the high school's first year iPad experience. The district handed out newly purchased iPads to 445 high school students last August.
The roll out was plagued with connectivity problems that greatly reduced the iPads' use the first weeks of school. Although some connectivity problems continued, the problem was addressed to the point iPads were an integral part of the school's education experience at the year's end, McKim said.
That underscored the importance of training staff in the effective use of iPads in the classroom and keeping the iPads operating properly, McKim said.
"We've come to rely on them so much that a down hour, even if it's not an hour lost, is an hour changed," he said.
Because of the communication they allowed among students, teachers and parents, the iPads eliminated student excuses for not getting assignments finished, McKim said. Audio materials available on iPads benefited students with reading problems and those taking Spanish and French, he said.
As might be expected, iPad use and their effective classroom applications differed among the school's teachers, McKim said. Some lost initial enthusiasm with the early connectivity problems.
Challenges included continued connectivity concerns in some locations at the school, McKim said. It was a problem the school continues to address, he said.
Although McKim viewed lessons learned in time management and prioritization as an overall positive of student iPad use, he admitted some students, especially young students, got involved with games at the expense of school work. As a way to address the issue, access to download applications would be tied to academic achievement and freshmen would not be allowed to download additional applications next year beyond those provided for academic use, he said.
The district instituted a $50 iPad fee with the rollout for those students choosing to take their IPads home at the end of the school day. Twelve parents chose not to pay the bill and 10 more parents later decided their children couldn't manage them at home, McKim said. Those students' iPads were stored at the school overnight, but the arrangement did not prevent student access to needed material, he said.
Police reports were filed on two as-yet unrecovered iPads stolen off of school property. One was destroyed in a car fire and another was found miles away from Baldwin City after it was stolen and badly "mangled," McKim said. In addition, 11 screens had to be replaced at a cost of $178 each, of which families were only asked to pay $100. The district's $50 iPad fee helped with that expense, he said.
In other business, the board:
• Approved purchase from Thomas Bus of a 2014 53-student passenger bus with 10,000 miles on the odometer for $78,800. Dorathy said the bus would replace the one that went out of service late in the school year. A new bus would cost the district "$120,000 plus" and wouldn't be delivered until after school starts in August, he said.
• Approved hiring Paul Musselman as the new Baldwin High School boys' basketball coach. Musselman was an assistant to Dustin Leochner, who resigned after the 2013-2014 season.
• Hired new teachers Angie Spielman for the Intermediate Center, Nicole Hopkins for the primary center and Donald Blanchat as a social science instructor for the high school.
• Approved an early retirement request from junior high language arts instructor Kathy Johansen. The district will provide her with $8,000 in annual compensation to offset health insurance costs until she reaches 65 years of age.
• Closed out the 2008 bond construction fund with the transfer of the last remaining money in that account of $56,800 to the district's bond and interest fund, where it will be applied the district's 2013-2014 payment on the 2008 bond debt.