Season's first art walk to celebrate Lumberyard's 100th birthday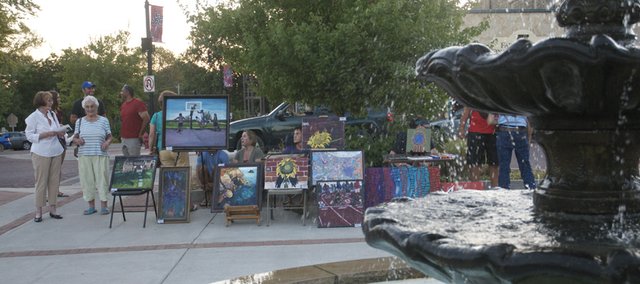 A party marking the 100th birthday of a community landmark will be the highlight of a busy Friday evening of downtown activities.
In conjunction with its first art walk of the season that traditionally draws craft and art vendors, the Lumberyard Arts Center will mark the 100th anniversary of the construction of the Ives-Hartley Building, the landmark at 715 High St. that was converted in 2010 to be the home of the arts center.
On hand to mark the occasion will be Lumberyard board member Tony Brown and volunteer Marian Constantinescu as Charles Ives and his son-in-law Forrest Hartley. Shortly after his father-in-law's death, Hartley built the building as the home of the Ives-Hartley Lumber Company the two men founded.
Of course, no birthday party is complete without cake, and the Lumberyard board has ordered one large enough to serve the crowd. The arts center will also give away yardsticks to commemorate the first 100 years of the building.
As is often the case, there will be an opening of a gallery show in conjunction with the art walk. The opening, also from 6 to 8 p.m. at the Lumberyard, will be of a collection of European monument and tombstone rubbings that former Baldwin City resident Gary Browne now owns. They were made in the early 1970s by a U.S. Marine serving in England.
The final treat of the evening will be Friday's performance of the Baldwin City Community Theatre's summer musical "The Phantom Tollbooth" in the Lotatorium just east of the Lumberyard. The evening's performance starts at 8 p.m.