Baldwin City community makes bike camp a successs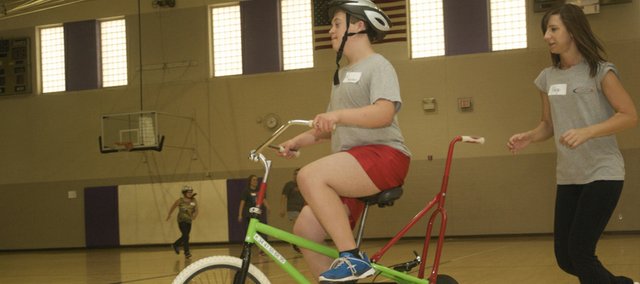 After a brief rest last Thursday morning in the Baldwin High School gymnasium bleachers, Kaden Studley raced back to his bicycle on the gym floor.
As his mother, Gayle Studley of Ottawa, looked on from the bleachers, her son launched himself forward to start circling the gymnasium, sometimes weaving in and out of cones set up on one side of the floor. When he arrived June 9 for the first session of the ICan Shine Bicycle Camp at the high school, Studley didn't know how to ride a bicycle, his mother said.
"We tried to get him to ride, but he could never master it," she said. "We had those oversized training wheels, but he fell and was scared of it. I'm so happy he is at this camp."
Young Studley's bicycle success was common Thursday morning, the fourth day of a five-day ICan Shine bike camp for special needs individuals, said Barbara Schwering, co-organizer of the camp with Betsy Ulrich.
"Almost everybody is up on two wheels," Schwering said. "And everyone is making progress."
Baldwin school district occupational therapist Schwering and special education instructor Ulrich set out a year ago to bring the camp to Baldwin City after witnessing the results of the special-needs camp in Topeka. The yearlong effort of organizing and fundraising paid off with the weeklong camp that filled 37 of the 40 camp spots available. Making the camp a success were the volunteers who manned the four daily 75-minute-long sessions, working with the special equipment ICan bike technician Clayton Whalen and floor supervisor Hannah Langdon brought to the Baldwin City camp.
Whalen explained the novice riders learned on bicycles first equipped with belt-driven foot-long rollers instead of rear wheels. As the riders progressed, the rollers were replaced with ones tapered slightly toward their ends, which allowed the bikes to pivot more from side to side.
"They wobble a little more," Whalen said. "Once they get used to those, we transfer over to regular bicycle wheels. The transfer usually goes pretty well."
There were still accidents, but those didn't deter the progress of the new riders, said Tiffany Defebaugh, one of the students in the Neosho County Community College occupation therapy assistant program who volunteered to help with the camp.
"They get right back on the bikes," she said Thursday morning. "They tell us to focus on telling them it's a good fall and to get back on the bike."
The camp was open to those 8 years old and older. One of the oldest campers was Nicole Luongo, who celebrated her 41st birthday on the camp's first day. She also had the distinction of traveling the greatest distance to attend, having planned a visit of her brother John Luongo of Kansas City, Mo., from her Florida home to coincide with the camp.
Biking is the most recent physical skill Nicole Luongo has picked up since having selective dorsal rhizotomy surgery 14 months ago. The operation, which severs some of the nerves to the spinal cord, has proved effective in increasing the mobility of some people with cerebral palsy.
Before the surgery, she couldn't walk heel to toe, Luongo said. She would leave the camp able to ride a bike but not certain how much riding she would be doing.
"I never learned to ride a bike," she said. "There's a bike trail in front of my home. It would be nice to ride on it. I'll see how far I can go."
Riding was only one of her motivations for attending the camp.
"I'm doing this to increase awareness," Luongo said. "A lot of people don't know SDR is an option."
Ulrich said 80 percent of the campers ended Friday able to ride independently.
"Success is more than just the numbers," she said. "It is all of the people who came together from the Baldwin City community to help 37 individuals make progress toward learning to ride a bike. Success is seeing individuals of all ability levels working together towards one purpose."
Ulrich and Schwering said the show of community support will make it possible to duplicate the camp.
"Teachers and high school students stepped up in ever-increasing numbers," Schwering said. "We are going to do it again next year."