BCCT

takes detour from musical standards with 'The Phantom Tollbooth'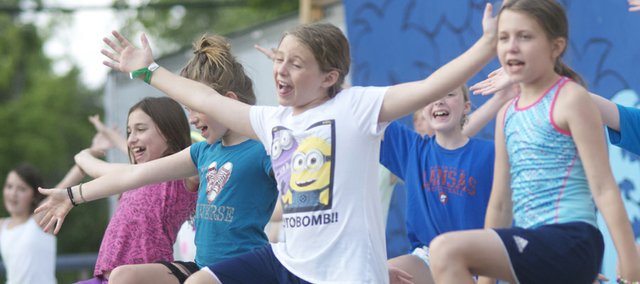 Those catching snippets of this year's Baldwin City Community Theatre's summer musical as they stroll downtown during evening rehearsals won't be singing along to familiar show tunes.
After presenting a series of standards, such as last year's production of "The Music Man," the BCCT is taking a detour with the little-known, "The Phantom Tollbooth." The outdoor musical will be performed at 8 p.m. June 18-22 and June 26-28 at the Lotatorium in the 700 block of High Street.
"I don't think anyone is familiar with the music," said BCCT President Julie Constantinescu. "People around town when they ask what the show is don't have a clue. So it will be new to everybody."
The musical was selected at the suggestion of director Jennifer Glenn, who said avid readers might be familiar with the musical's source material.
"The book is a classic," she said of the book Norton Juster wrote in 1961. "It's a great story."
The tale is that of a young girl, Milo, who travels via a magic tollbooth that appears in her bedroom to mystical lands with her dog, Tock, Glenn said.
"She's bored because she won't try anything," she said. "So she goes off on this adventure and meets all those wonderful characters."
The characters and adventures teach Milo there's plenty to do if she's open to learning and thinking.
In addition to the appeal of the story, there was a practical reason for the play's selection, Glenn said.
"There's a lot of places for kids and a lot of interesting characters for adults," she said.
Three of the musical's young cast members are Maiya Evans as Milo; and Joss Bathke as her dog, Tock; and Emma Burnett as The Dodecahedron. Burnett is a junior-to-be at Baldwin High School who described the musical as a mix of "Alice's Adventures in Wonderland" and Dr. Seuss.
Evans, who will be a seventh-grader at Baldwin Junior High School next year, said the musical was fun because of its wacky characters. She enjoyed her role because she performs two solos and gets "to go around in a real cool car." The car is a box made to look like a 1950s era big-finned model that will hang from her shoulders by suspenders.
Bathke, who just finished the seventh grade at BJHS, said his was a fun role.
"I like my part because I get to act like a dog," he said. "I bark at those little people called the Lethargarians."
Burnett said she was one of the wacky characters Milo and Tock encounter as The Dodecahedron, a word for a 12-sided figure.
"I'm really full of myself, and that's fun to act," she said. "And I'm kind of scary because I have 12 faces, which is kind of funny."
"I really don't know how I'm going to do that yet. I guess I'm going to have a big dress with 11 faces on it."
BCCT board member Shelly Todd is a wacky character, too, but at cross-purposes with The Dodecahedron and others who encourage Milo's growth.
"I'm one of three demons who try to get Milo not to think or use her brain," she said. "We make little cameo appearances throughout."
A veteran of four BCCT musicals, Todd said she thought audiences will enjoy the unfamiliar material.
"I like it because it's a musical I have never seen," she said. "I imagine most of the community hasn't either. We as a company get to create something the audience will have nothing to compare to. I think the community will buy into it because it's a really great story."