New Baldwin City clerk eager to reach out to community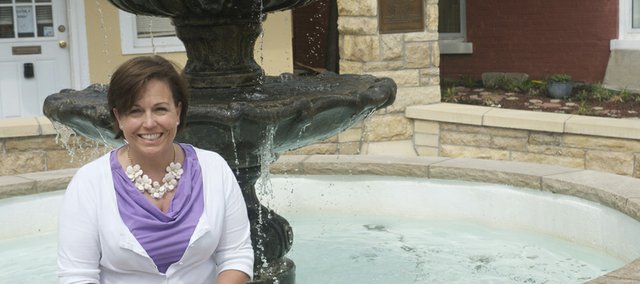 New Baldwin City Clerk Anna Keena's years in city government literally moved her on a career path toward Baldwin City.
"Yes, I have been moving this way," said Keena, who started in her new position Monday. "I've always loved this community."
After graduating high school, Keena worked for the city of Olathe from 1995 to 2009. During that time she earned a degree in organizational development from MidAmerica Nazarene and a city clerk's certificate from Wichita State University.
Keena said she left her hometown job to become city clerk at Spring Hill because it offered the opportunity to serve as the city's human resource manager. After three years there, she accepted a job as municipal administrative services director just down the road from Baldwin City at Edgerton.
A self-described people person, Keena said she loved all her past positions. She talks fondly about being able to get involved with the communities of Olathe and Spring Hill. That was something she missed in her latest job at Edgerton.
Keena said she took that job because of her friendship and respect for Edgerton City Administrator Beth Linn. It was a job that had her thoroughly involved with that city's preparations for the opening of the Burlington Northern Santa Fe Intermodal facility built on property Edgerton annexed on its eastern border.
"It was a bigger job with bigger responsibilities," she said. "It was important work. I loved it, but I also missed the opportunity to fully engage with people and the community."
The opportunity to once again get involved with a community, a personal connection with another city employee and her associations with Baldwin City all played a role in her seeking her new job.
The city clerk position opened recently when the Baldwin City Council approved a City Hall reorganization that freed Collin Bielser of city clerk duties so he could concentrate more on community development. Keena learned of the position through city finance director Brad Smith, with whom she worked at Spring Hill. The position also opened up as Keena was looking to move to Baldwin City.
"I have a lot of friends in Baldwin City," she said. "My friends are very happy here. It's a lovely community."
Baldwin City Administrator Chris Lowe said Keena's years of experience impressed those on the interview committee. He saw the additional benefit of giving her the chance to do what she loves.
"What I personally found appealing was her ability and experience in engaging with people both internally and externally," he said. "Not only will she be an asset in working with Baker, the school district and our other community partners, she's been involved with programs directed internally. She will help us get our story out there."
In addition to the her official city clerk duties of preparing, executing and archiving city documents, Keena will be the city's human resource manager and City Hall outreach person to community organizations and partners.
Keena does not yet have a desk or office to invite the public to visit, but she said she always welcomed visitors and residents with questions.
"That's what government is all about for me," she said. "I hope when people come into City Hall, they'll see an open-door policy. We'll do what we can for them. If we can't do anything, we'll give them an explanation why."