BHS

coach Zuzzio 'probably' returning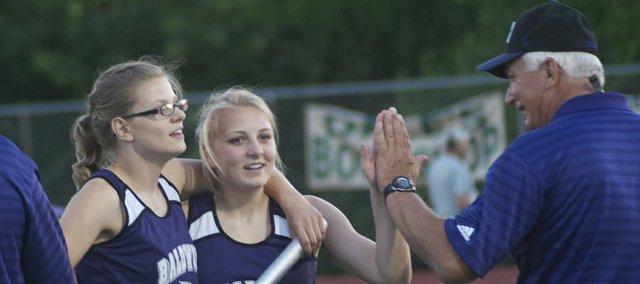 When the 2014 Baldwin High track and field season started, girls coach Ted Zuzzio said it would be his "swan song" before he entered retirement. That theme continued throughout the season and included an announcement the Frontier League meet at Liston Stadium would be his last home meet as coach of the Bulldogs.
But it turns out, Zuzzio is having too much fun, and success, to retire from coaching. He has retired from full-time teaching but "probably" would return as coach of the Bulldog girls next spring.
"The superintendent (Paul Dorathy) told me I could continue to coach the girls and teach driver's ed as long as I wanted," he said Monday.
It would be a hard time to walk away. Despite the loss of two gold-medal members, seniors Hannah Hutton and Morgan Lober, Bulldogs will be a favorite to win their third-straight 4A championship next spring and the school's fifth in six years.
Returning are seven athletes who won gold at state, including Alexia Stein to defend her state titles in the shot put and discus, gold-medal javelin winner Kelsey Kehl, 800-meter relay team members Fayth Peterson and Addie Dick and 400-meter relay team members Peterson, Carlyn Cole and Kyna Smith. Maddie Ogle, state qualifier in both hurdle events, return for her senior campaign, as does state discus and javelin qualifier Jordan Hoffman. Another javelin qualifier sophomore Kylee Bremer also returns.
"We lose two gals. We lose Morgan on the 4x400," Zuzzio said, calling Lober won of the best athlete ever to wear Baldwin purple. "We lost three of the four members of last year's winning 4x400 relay and still won."