Baldwin City Council gives final approval of High Street/
U.S.

56 realignment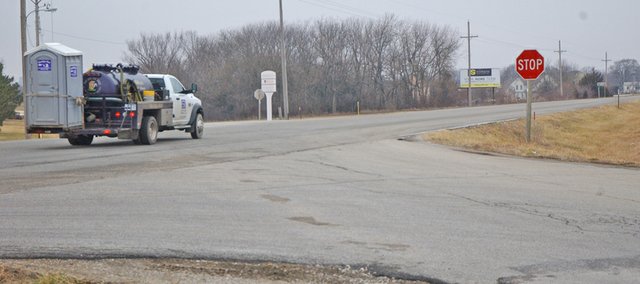 The Baldwin City Council approved a measure Monday that will ensure the third-straight summer of construction on one of the city's main entry points. 
On Monday, the Baldwin City Council voted 5-0 to authorize Mayor Marilyn Pearse to execute with the Kansas Department of Transportation the realignment of the High Street and U.S. Highway 56 intersection.
Baldwin City public works supervisor Bill Winegar had encouraging words for those with fresh memories of last summer's bridge replacement and Lawrence Street upgrades on U.S. 56 in west Baldwin City and west of the city or the reconstruction of North Sixth Street in 2012. The High Street intersection project would not cause anywhere near that level of disruption, he said.
"The highway will never be closed," he said. "There may be a brief closure of High Street of a day or two."
Monday's action was a formality and the latest in a series of steps that started when KDOT first approached the city about the realignment in the fall of 2011, City Administrator Chris Lowe told the council. The project, which is part of KDOT's access management program, will eliminate the sharp angle of the current intersection by curving High Street to the north just to the west of its current alignment. With that, High Street would meet the highway at a 90-degree angle. The intersection will also be raised to meet the highway on the same level rather than the downward slope at the current corner.
The new alignment also would be carried on north of the highway. On that side of the highway, High Street would then transition to an east-west frontage road providing access to industrial park properties.
To further improve safety, left-turn lanes would be added to the middle of U.S. 56 east and west of the new intersection.
KDOT is to pay up to $775,000 of the construction cost. The city was responsible for utility relocation, right-of-way acquisition and preliminary design and engineering. Lowe said Monday the three city responsibilities have been completed at the cost was $136,570. Douglas County has agree to pay 40 percent of that amount.
With Monday's document signed, KDOT can bid the project, Lowe said. He said KDOT has not told the city when work would start on the project.