2013
BHS

grad invited to White House Science Fair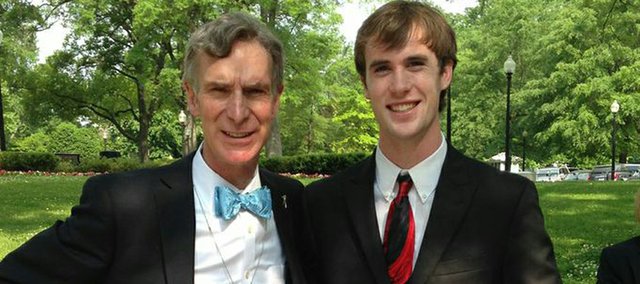 Last week, Austin Kraus earned his fifth trip to the nation's capital from his participation in Baldwin High School's Real World Design Challenge teams.
It was an unexpected trip, considering Kraus graduated in 2013 from Baldwin High School and just completed his freshman year at the University of Evansville in Evansville, Ind., where he is studying mechanical engineering.
The latest visit to Washington, D.C., was in recognition of what Kraus accomplished during his time as a member of four Real World Design Challenge teams. BHS teams won the state competition for the right to compete in the national finals in Washington all four years. The Baldwin team won the national competition his freshman and junior years and finished third when Kraus was a sophomore.
The trip was at the invitation of Kansas STARBASE, a U.S. Department of Defense program emphasizing science and engineering learning opportunities, which paid the travel and room expenses for Kraus and his mother, Nanette Kraus, so that they could attend the May 17 White House Science Fair.
"They submitted nominations for the entire team my senior year," Kraus said. "I was chosen for going to the finals all four years and the two national championships."
During the visit of Kraus and his mother to the White House, he had time to view the 32 projects and talk with the exhibitors, who ranged from 6 to 20 years old. The invited guests and exhibitors were then ushered into another room, where President Barack Obama commented on the projects and spoke the importance of science, technology, engineering and math education.
"That was quite an experience," Kraus said. "It was a neat way to start the summer. It's good to be back home, having time to work, hang out with my friends and not focus on my studies."
Ahead is a busy summer of work at Santa Fe Market, the Baldwin City Parks and Recreation Commission and mowing lawns. His freshman year at Evansville went well, Kraus said, adding he made an adjustment common to freshmen eager to make the most of the college experience.
"I kept my academics up," he said. "I got a little too involved in campus activities at one point. I had to back off a little."
He did not get involved with any engineering competitions, at least not yet.
"There's definitely opportunities there," he said. "I plan to at some point."
The Real World Design Challenge was altered this past year to stretch the competition's schedule out to 12 months. During the years Kraus participated, teams learned their challenge in the fall, had a deadline for state competitions in January, and state winners went to the national competition in late April.
Kraus said he had the opportunity to talk in Washington with the national director of the Real World Design Challenge, who explained the change was to give teams more preparation time.
"It will give teams more time to define results," he said. "The issue is graduating seniors attending the national competition while in college. It would have been really hard (for me), being 470 miles away in Evansville, Indiana, and not side by side with my teammates. It would have been an issue, but I don't know if it would have been a deal breaker."
BHS teams had success despite the tight deadlines because of the experience members had in the competition after the first year, Kraus said.
Kraus was not the first BHS Real World Design team member to be invited to the White House Science Fair. Four members of the first national championship team — Brandon Baltzell, Carson Barnes, Shelby Gregory and Carrie Deitz — were invited to the first science fair in October 2010 and personally presented their RWDC national championship idea to Obama.