Quayle collection to occupy Baker librarian's time for next month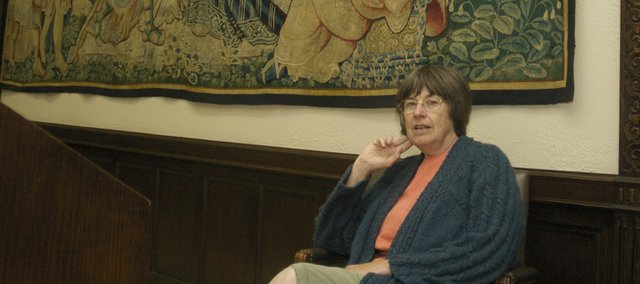 When asked to name her favorite item in Baker University's prized Quayle Bible Collection, Kay Bradt qualifies her answer with the acknowledgement that it changes regularly as she researches and studies the collection.
There's a lot for the Baker University director of library services to choose from in the collection housed in the Spencer Wing of Baker's Collins Library. There's the two 1611 original edition King James Bibles from both the "he" and "she" printings (the second printing's correct use of the pronoun "she" from the passage of Ruth 3:15 "and she went into the citie" distinguishes the two printings), a leaf of the Gutenberg Bible and Bibles owned by such historical figures as President Harry Truman and Henry VIII.
Bradt named a Bible with such a famous provenance, but added a story revealing her choice wasn't just name deep.
"My current favorite is an early bishop's Bible that Queen Elizabeth had," she said. "A bishop presented it to her during her reign. In it is a woodcut from Germany. The Germans had no problem representing God, but that didn't go over well with the Puritans. So they took the image of God out and replaced it with a pastoral scene. It was a scene with a tree and a bunny, actually.
"When they returned the woodcut to Germany, the Germans put God back in and used it again."
That Bible was one of 250 Bibles that compose the collection Bishop William Quayle donated to Baker University at his death in 1925 at the age of 64. It has since grown to more than 900 items through later donations from benefactors and the school's few well-considered purchases.
She doesn't spend as much time with the collection as she would like, Bradt said. That will change in the next month. Each August, she selects materials from the collection to be showcased in an 11-month themed show. Most of the 16th- through 18th-century woodcuts and engravings now on view in the Spencer Wing display room for the current show, "Illustrating the Bible," will be stored away as Bradt builds a new show with the theme based on the collection's books and culture.
It's a difficult theme for a show, but Bradt said she was piggy-backing off a work assigned students for a spring semester class project. The 13 student projects made cultural statements from such materials in the collection as a Koran, a Bible translated into Cherokee and ancient clay tablets, she said.
The class project illustrates the collection is more than museum. It is a teaching tool for Baker students, Bradt said. It also attracts some scholars from others schools, such as a Kansas University student researching what was written in the margins of a Geneva Bible written when a Calvinist theocracy controlled that Swiss city during the Reformation.
The margin notes — both those in the printed text and the handwritten ones readers later added — are interesting, Bradt said. They shed light on the conflicting aspirations of church leaders, who wanted the masses to read the Bible but only with their strict interpretations.
"It's funny because they were critical of Catholic priests telling people what was in the Bible, but they were terribly afraid readers would misinterpret it."
There's another Bible in the collection that was a subject of a student's spring project that is evidence publishers, too, could stray from orthodoxy.
"There's a King James Bible that got its publisher in a little trouble," Bradt said. "It misrepresented the Seventh Commandment. The text reads 'Thou shall commit adultery.'"
Authorities at the time were not amused and fined the publisher, Bradt said.
Requests to use the collection for research are rare, a fact Bradt said was understandable despite the wealth of material available.
 "The problem is the collection isn't cataloged," she said. "Researchers don't have a way of knowing what we have."
That has been a longtime goal of the university and of her predecessor Steve Forbes, Bradt said. Her goal is to make available a catalog of the collection online.
"That's a project that we need to accomplish, but it's hard with a limited staff to make much headway," she said.
Of course, the foundation of that collection was the donation of Quayle, who was a Baker University graduate, instructor and president of the school at the young age of 30. Already a Methodist minister, he left Baldwin City for posts in Kansas City, Indianapolis, Indiana and Chicago. After being named a bishop in 2008, Quayle served in Oklahoma City and St. Paul, Minn.
He was also a serious and knowledgeable collector.
"He really researched these Bibles," Bradt said. "He had books on rare books and early printers. He made notes in the margins. He traveled a great deal and met with rare book dealers. We know sometimes he bid on things at auction, so he felt comfortable enough with his knowledge to spend his money that way. The results show he did his homework well."
Quayle put together a collection that's worth since his death has greatly exceeded the rate of inflation. Bradt said she has book sale catalogs from the late 19th and early 20th centuries that listed the books Quayle was collecting from 20 to 100 pounds. Nonetheless, the collection did represent a commitment for someone with living on a minister's salary.
Bradt does note the ministry wasn't Quayle's sole source of income. He was also a popular lecturer and writer who wrote more than 25 books.
Quayle was a man of books and the outdoors and his writings were mostly ruminations on literature and nature, Bradt said. Among the titles are "In God's Out-of-Doors," "The Poet's Poet and Other Essays," "The Prairie and the Sea" and "The Hero: Jean Valjean," reflections on the meaning of Victor Hugo's character that Bradt said was his most popular work.
There is one Bible in the collection that would be a good guess for Quayle's favorite book in the collection because he used it in a way that spans his religious, natural and literary interests.
"It was a small Bible owned by the poet Robert Browning," Bradt said. "He (Quayle) kept it in his pocket when he went on walks. We don't know if he read it or just wanted it close. It was in Latin but he was a scholar of ancient languages and that wouldn't have been a barrier for him."