Baldwin City Council to consider on Monday 2015 budget with 3.609 mill levy increase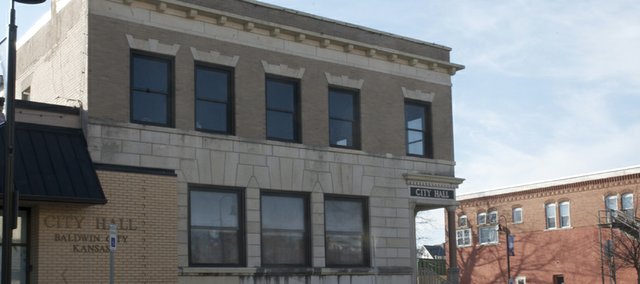 The Baldwin City Council will consider on Monday a 2015 budget that would increase the city's property tax levy to 27.490 mills, or a 3.609 mill increase from that of 2013.
That increase is not the result of a budget that buys a lot of nice new things — none of the facility projects scheduled for 2015 in the five-year capital improvement plan the council approved in February will go forward next year — but is the result of a shrinking tax base and inflation, Baldwin City financial director Brad Smith said.
The council approved the 2015 budget for publication July 21. It will approve a final 2015 budget at its Monday meeting after a public hearing on the budget at 7 p.m. in the Baldwin City American Legion Post, 803 High St.
The published budget establishes maximum 2015 expenditure levels for the city's different funds. The council can reduce those spending levels at its Monday meeting, as it did a year ago, but can't exceed them.
Smith said one of the things driving the mill levy increase was the continued slide of the city's overall valuation. The latest number from the Douglas County Appraiser's Office in late June pegged the assessed value of taxable property in the city at $29.37 million. That was $290,000 less than this year and $770,000 less than 2013. Consequently, a mill — which equals $1 of revenue for every $1,000 of assessed valuation — produces less revenue for the city.
Smith said, however, the city's costs for everything from fuel to office paper were increasing. The city's general fund budget, which pays for day-to-day city activities of non-utility operations, would increase from $2.617 million in 2014 to $2.852 million in 2015, the published budget shows.
Smith said he was now working on a report for Monday's council meeting, which would explain the sources of those increased costs.
Except for street and sidewalk work, planned capital improvement projects, including the start of $4.1 million in sewer upgrades planned for the next three years, were not budgeted and will be rescheduled for later years, Smith said. The delay in the start of the 5-year capital improvement plan the council worked so hard to craft was disappointing, but it was designed to be a flexible plan that city councils could adjust according to needs and financial conditions, he said.
At the mill levy published, the city's share of 2015 taxes on $100,000 of assessed valuation on a residential home would be $434.