Baldwin boys soccer team third in Sunflower Games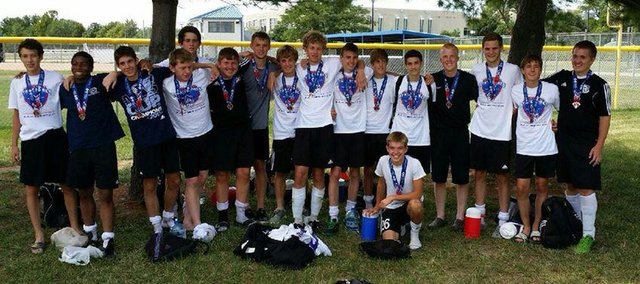 A boys soccer team made up of players who will play this fall for Baldwin High School and coached by Bulldog head man Mark Joslyn placed third last week at the Kansas Sunflower Games.
In a tournament played the Washburn University campus in Topeka, the team was a perfect 3-0 in pool play, downing Junction City, Garden City and St. Thomas Aquinas' second team, Joslyn said. The team competed well but fell to the St. Thomas Aquinas varsity team in the championship round. Baldwin rebounded to win the third-place game.
St. Thomas Aquinas went on to win the championship, Joslyn said. That was no surprise since the Johnson County school in a perennial 5A state champion and past winner of the Sunflower Games.
"It was a very good experience for our team as several players experienced their first extended competition at the varsity level and performed well," Joslyn said. "Baldwin was the smallest school in classification to advance to the semi-final round."
The Bulldog team have its second-annual match against an alumni team from 7 to 8 p.m. Friday at the BHS soccer field. Admission is free.
The game will undoubtedly see the Bulldogs matched against many of the seniors from last year's final-four state qualifying team, including Austin Chapman, Nate Clem, Russell Cloon, Nick Joslyn and Hunter Young.
The Bulldogs will next be on the field when two-a-day practices start with the start of fall sports on Aug. 18.