Vinland Fair set for 107th run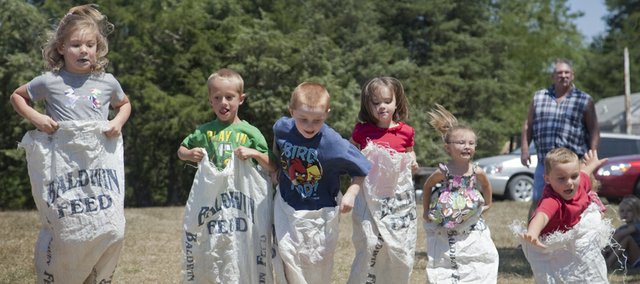 After 107 years, the annual Vinland Fair scheduled for Aug. 7-9 remains an old-fashioned country fair. but gradually it has evolved from featuring horse events to tractor events. This year, a garden tractor-pulling show has been added to the program along with the popular antique tractor-pulling contest and the pedal tractor competition for youngsters.
The antique tractor pull is on Friday night, Aug. 8, and the pedal tractor pull is the next afternoon at 2:30 p.m. The new program, presented by the Renegade Pullers Lawnmower organization, begins about 3 p.m. Saturday, immediately after the pedal tractor pull.
The Renegade Pullers president Marty Morehead of Edgerton said the program is "a traveling series with a following of 40 to 50 tractors ranging from the stock garden, modified garden, motorcycle and V-8 mini-rods. We provide family entertainment for all ages and have appeared all over Kansas and parts of Missouri."
The other events on the schedule for the fair are at the same traditional times, beginning with the entry time from 4 to 7 p.m. Aug. 7, for all exhibits except livestock. During the afternoon at 2 p.m. the old-time farm skills contests, such as nail driving, and the horse shoe pitching training will begin.
The crowded Thursday evening program starts with the talent show at 6 p.m., the poultry show at 6:30 p.m. and the rabbit show at 7 p.m. Also at 7 p.m. the Baldwin High School Band will present a program followed by a concert at 7:30 p.m. by the Alferd Packer Memorial String Band.
Friday's schedule of events begins at 10 a.m. with the stock bicycle races for all ages. At noon, the features are the sack races, races and tug of war, all especially for youngsters.
Friday night's program is the antique tractor pull beginning at 7 p.m. with about 100 tractors participating. Also on the schedule is the concert by the Rural Harmony Band at 7:30 p.m.
Saturday's program begins with the horseshoe pitching contest at 9 a.m. followed by the box turtle race and pet parade at 11 a.m. The livestock exhibit judging kicks off the afternoon program at 1 p.m. followed by the pedal tractor pull at 2:30 p.m. and the lawnmower pull at 3 p.m. Alt the same time as the lawnmower tractor pull, contestants will be competing in the watermelon seed spitting contest.
The evening will feature the homemade ice cream judging and serving about 7 p.m. and the concert at 7:30 p.m. by the Blue Stem Band.
The fair continues its tradition of no-admission charges, free parking and no carnival. It has a publicly elected volunteer board, and most of the financial support is provided by profits from the food and concession stands, which are operated by unpaid volunteers.