Friends team up to open downtown Baldwin City photography studio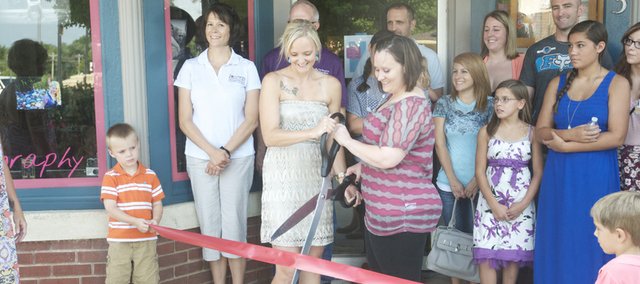 The co-owners of downtown's newest business say asking "Why Baldwin City?" is the wrong question.
The question became "Why not Baldwin City?" as she and her partner Tisha Voigts searched for a place to open a photography studio, Michelle Beas said.
"We were looking around Lawrence, Olathe, Overland Park and the area," she said. "As soon as we drove into Baldwin City, we didn't have to look any further. The downtown, the brick buildings, the Baker campus — it was a photographer's dream."
Beas and Voigts said they also were attracted to the friendliness of the community they experienced through waves while driving, greetings when walking and welcoming gestures as they worked to open the studio.
"When we were painting out front in the evening, we had people walking by offering to pick up a brush," Voigts said. "It brought tears to my eyes."
The two women formally opened In Focus Photography at 723 Eighth St. on Friday with a Baldwin City Chamber of Commerce ribbon cutting. The event concluded their near monthlong remodeling of what was the home of the Baldwin Academy of Dance and Voice before it moved June 1 to its new, larger home at 711 High St.
The Eighth Street storefront didn't take a lot of remodeling for their purposes as the bare brick walls and woodwork they found inside provide a great backdrop for photographs, Beas said. The most noticeable change of the remodeling is to the storefront's windows, where the two owners are indentified with their businesses, Beasies Photography and Voigts Photography.
"We have two separate businesses out of one studio," Beas said. "We team up for weddings and big events, but we do our own things. We're also best friends, so it's not like we're in competition against each other."
Beas and Voigts are both from southwest Johnson County, with Beas calling Edgerton home and Voigts from Gardner. They are both married to Kansas Highway Patrol troopers, Beas said. Helping to seal the bond between them is a shared love of photography.
"I've been into photography all my life," Beas said. "When I was in college studying biology, I had a camera with me all the time. I started out doing wildlife and outdoor photography and then started doing a lot of family photography. It got to the of why not go into business?"
One of her customers was her friend Voigts, who had developed her own camera skills to the point she was something of a designated family photographer. Voigts, too, decided she should take the next step and make a business out of her passion.
Family photography remains her favorite subject, she said
"I love to do candid shots," Voigts said. "When we pose them, I look for those sweet little moments when they don't even know I am shooting, I look to freeze those moments in time."
Their collaborations and individual businesses grew to the point they agreed they should look for space for a joint studio.
"I've been working out of the car and my home," Beas said. "My husband told me to I had to have somewhere to put all my equipment to get it out of the house. My clientele is big enough I thought they would follow me to Baldwin City, and so far they have."
Her favorite subjects are children, Beas said.
"I'm a pre-kindergarten teacher, so I love working with kids," she said. "I love to make them smile, giggle and laugh."
Voigts said they were still working to establish the hours of the new studio around those of their other jobs. But potential customers can make an appointment by calling the photo numbers listed on the studio's newly painted windows.