Face to Face: Baker University campus minister Kevin Hopkins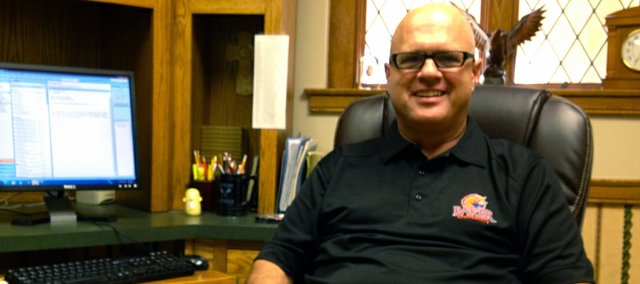 Kevin Hopkins
Born:Wichita, but Hopkins said Hutchison was his hometown and where he spent his childhood years.
Family: Wife, Joni, and six children. They are Divya, 14, Selci, 15, Kedzie, 16, Navya, 18, Marshall, 18, and Jordan 20.
Education: Hopkins earned a bachelor's degree in social work from Kansas University in 1988. He then earned a master's in divinity from Garrett-Evangelical Theological Seminary of Northwestern University.
Hobbies: "I try to be active. I play racquetball, basketball, ping pong and jog with my dog. I chauffer the kids. That's my real hobby, I think."
Career: Hopkins said his first job after finishing seminary in 1993 was at Southern Illinois University in Carbondale, Ill., which was the first of a series of ministries in campus settings that have marked his career. Other postings have included Grace United Methodist Church on the campus of Southwestern College in Winfield and Kansas Wesleyan in Salina. His last position before coming to Baker University was as pastor at Leavenworth First United Methodist Church.
Digging deeper: Hopkins said he was called to the ministry because he wanted to serve and help people. "I was called to serve God and help other people find their mission in life." Those are goals especially relevant to a campus pastor when ministering to young students still looking to find focus, he said.
Hopkins said he hasn't yet written the sermon for his first Thursday university worship when Baker University students return in August, but was "playing around" with the theme of students overcoming the worries that arise during the first week of college.