Meals on Wheels program feeds more than 300 a day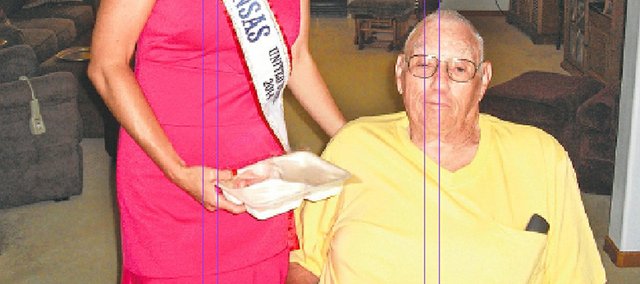 Lawrence — Kristie Bowen started volunteering for Douglas County Senior Meals a few months back, driving hot meals to local homebound residents. She says she loves socializing with the senior citizens on her route.
"It's rewarding to know that, in addition to providing their meal, I may be providing some sincere interaction as well," said Bowen, a 38-year-old Lawrence fitness instructor.
Bowen was recently named Mrs. Kansas United States and wore her pageant outfit on a recent run of deliveries, reportedly delighting some of the program's male clients. The national pageant is this week in Las Vegas.
Bowen is one of dozens of volunteers for Douglas County's two programs that deliver meals to local residents: Douglas County Senior Meals and Lawrence Meals on Wheels. The latter serves individuals 60 and older who have normal diets, while the latter delivers meals to people of all ages and those with dietary restrictions. The Senior Meals program also has congregate sites at the Lawrence Senior Center, Babcock Place Apartments in Lawrence, Baldwin Senior Center in Baldwin City and Pinecrest Apartments in Eudora. The two programs serve nearly 300 people per day.
"It is a unique situation that not many communities have," said Kim Culliss, executive director of Lawrence Meals on Wheels. "We work very close together to make sure there's no duplication. It gives people choice and more options, especially with all the special diets coming out."
Many communities across the state and country, including nearby places like Ottawa and Leavenworth, have their own Meals on Wheels programs. With an aging baby boomer population, demand for these programs' services continues to grow.
The Lawrence Meals on Wheels program was started in 1970 by a group of local women who cooked the meals themselves (Senior Meals came later). Nowadays, Southern Accent Catering prepares the food for Senior Meals, while the Meals on Wheels are made at Lawrence Memorial Hospital to meet dietary restrictions, which may include low-fat, low-calorie, no-salt, renal or gluten-free. Both programs, which supplement funding through the federal Older Americans Act with other local sources, ask for a suggested donation for each meal but deliver the food regardless of a person's finances.
"Since 1970, we haven't turned anyone away for their ability to pay," Culliss said. "We never want to get in a situation where someone has to feel like they're choosing between a hot, balanced, nutritious meal every day and their medications."
Last month, Senior Meals had to raise its suggested donation by 50 cents, to $3.25, to make up for rising food costs that haven't been accompanied by an increase in funding, the first time the organization has had to do so in more than five years. Meals on Wheels, meanwhile, asks for $4.50 a meal, but only about 5 percent of the program's clients are able to afford the entire amount.
The programs rely heavily on volunteers, with a stable of about 200 between the two of them. Volunteers include retirees, students and stay-at-home moms who bring their children.
Carolyn Landgrebe, of Lawrence, has been volunteering for Meals on Wheels since its inception 44 years ago. Now that she's retired she drives for the program five days a week.
"I volunteer because I like to help other people," Landgrebe, 76, told the Journal-World in 2012. "I enjoy other people and I like to help them. It's not necessarily to make them happy, but to help them enjoy life. Well, make them happy, too, I guess."
Bowen, the Mrs. United States contestant, hopes her participation will inspire others to volunteer. And she's passing on the tradition: She is often accompanied on deliveries by her sons, Baylor, 10, and Banks, 7.
"Kristie's one of about 70 volunteers we use on a weekly or substitute basis. She's a fantastic volunteer for us," said Senior Meals manager Ray Buckingham. "We love our volunteers because we couldn't do what we do without them."
"It's very rewarding to be able to do something like this," Buckingham noted, encouraging others to give it a try. "The folks who receive our home-delivered meals are very appreciative. It always gives us a good feeling to know you helped someone."