Baker's online
MLA

program recognized as one of nation's best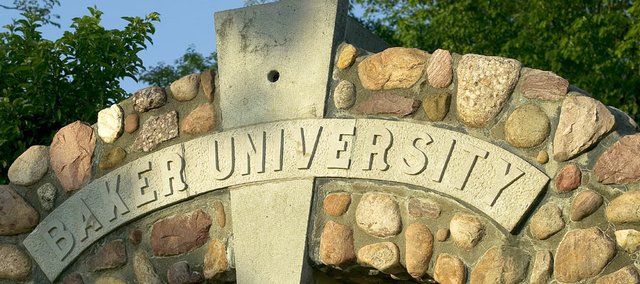 Like many other busy adults, Cheryl McCrary was concerned her full life would further delay her goal of earning a master's degree.
As a mother of two with a full-time job in the Baker University admissions office and with responsibilities at the Baldwin Athletic Club she and her husband own, McCrary said she didn't have time to pursue a master's program that required her to travel for regularly scheduled classes. She found the solution to her educational ambitions was the online master's of liberal arts program her employer offers.
"I never would have made it without this," said McCrary, who completed Baker's 36-hour MLA program in May 2013. "When you're a working adult, the biggest advantage is the flexibility and convenience of being able to work at home when you have time."
According to the online writer's resource website wordfocus.com, McCrary made a wise choice in completing her degree at Baker. The website recently ranked Baker's 7-year-old online MLA program the fifth-best online liberal arts program in the country based on such factors as tuition, accreditation, educational rank and unique program construction. Baker was one of three schools on the list to offer online master's degrees.
"For the Liberal Arts major dedicated to refining their undergraduate accomplishments, Baker University is unique in that it offers a Master of Arts in Liberal Arts degree," wordfocus.com said of the Baker program.
Baker was one of three schools offering online master's degrees on the website's list, which was topped by the University of Massachusetts undergraduate online liberal arts program.
The Baker MLA program, which was started in the mid-1970s, is a "mission-centric" program near and dear to the institution, said Brian Messer, vice president and dean of Baker's School of Professional and Graduate Studies. The program is know for customizing its curriculum for students with an emphasis on creative arts, history and ideas, and natural and social sciences, he said.
"For nearly 40 years, Baker University has been at the forefront of educating adult learners," Messer said. "The latest honor highlights the importance of our well-rounded degree program and how the vast learning opportunities at Baker prepare our students for a rewarding career."
Baker University public relations director Steve Rottinghaus said there are currently 120 students enrolled in the online MLA program, which includes concentrations in human resources and marketing.
McCrary said her online classes were taken through a social media portal that included photos and videos of her and fellow students. The program erased her fears the online experience would rob her of joint classroom learning experiences, she said.
"I was a bit scared when I started taking online classes I would be missing some of the interactions of traditional classroom courses," she said. "There were students from California, Tennessee and everywhere. We were all connected. You could comment on what you were reading and other students in the class would respond. There was a lot of interaction."