Rural Baldwin City teens have nose for business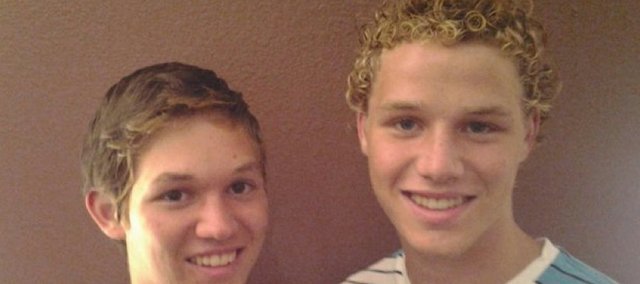 Brothers Kyson and Kendrick Gardner were looking for a business opportunity recently when they caught a whiff of their family's garbage can. It wasn't a pretty smell.
So the teens from rural Douglas County asked their dad if he thought anyone would pay to have their trash containers cleaned. Their dad knew a guy who ran a similar service in Olathe; the guy in turn helped the Gardner boys set up their new business.
While the idea may be a bit offbeat, it seems to have found a market in Lawrence.
The Gardners recently went door to door in Lawrence to advertise their new business when several residents mentioned having stinky garbage cans. The Journal-World reported on the phenomenon last August after people complained about the stench of the city's new trash containers. City spokeswoman Megan Gilliland said that after the article was published the city received complaints from two citizens and successfully resolved their concerns.
But since trash cans contain, well, trash, the Gardner Brothers are here to help. Kyson explained the cleaning process.
"We throw some soap around there and spray it with a power washer. Then we spray some stuff in there to make it smell really good and fresh," he said. "Depending on how dirty it is, it takes five to 10 minutes."
Kyson, 16, and Kendrick, 17, are trying to earn money for college as well as for an upcoming mission trip. They offer either a one-time cleaning or yearly or quarterly deals.
For his part, Kyson said he doesn't think Lawrence trash cans stink any worse than others. He and his family live in the country, he said, "and ours smell just as bad."