Douglas County commissioners to work on spending, taxes as they consider 3.86 mill increase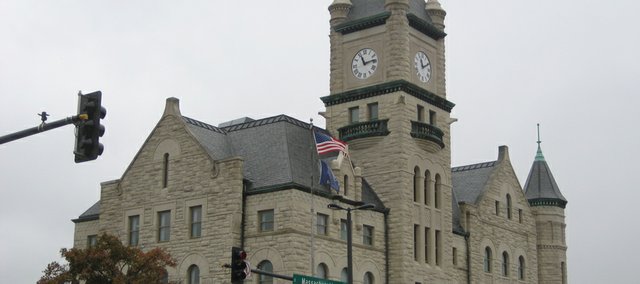 Douglas County commissioners on Tuesday will consider a proposed budget that includes a property tax increase of 3.86 mills.
Commissioners Mike Gaughan, Nancy Thellman and Jim Flory will go through the county's budget and approve spending priorities and a tax rate that will be set for a final vote in August. The meeting starts at 8:30 a.m. in the County Courthouse.
For a home valued at $185,000, property taxes would go up $82 under the plan. The spending plan also includes a 3 percent pay raise for county employees.
Much of the proposed increase is due to actions by the Kansas Legislature or state agencies, County Administrator Craig Weinaug said.
The Legislature approved a four-year phase-out of the mortgage registration fee, which will reduce revenues to the county by $300,000 in the fiscal year that starts Jan. 1.
But the revenue from the mortgage registration fee is also taking a hit from changing market conditions. In previous years, the mortgage registration fee brought nearly $2 million annually to county coffers, but a reduction in the number of refinanced home loans has cut that revenue stream by nearly 50 percent.
Another revenue hit from the state comes in the form or reducing the tax rate on boats over the next four years.
The state is also requiring the county to increase its workers' compensation reserve fund; contributions to employee pensions; and hire independent appraisers in tax disputes with industrial property owners.
And reductions in mental health grants at the state level have prompted increases in local spending to assist Bert Nash Community Mental Health Center.
Costs also are going up in several areas. For example, because of capacity problems at the Douglas County Jail, the county budgeted $100,000 this fiscal year to house excess inmates in Johnson County. But that is expected to increase to $250,000 next year due to continued capacity problems and the recent decision by Johnson County officials to increase their daily charges.
Since the county budget proposal was unveiled last week, various groups and interests have made supplemental requests. If approved in total, these requests would raise taxes by more than 6 mills.
Some of those requests include:
— $855,926 to hire five new sheriff's deputies; eight more correction officers for the county jail; and a coordinator for the prisoner re-entry program;
— $529,731 for ambulance service to Eudora;
— $76,940 for a media information/technology specialist in the district attorney's office to handle the increased use of computers and electronic media in the investigation, record-keeping, and prosecution of crimes;
— $55,474 to restore a fifth agent position in the Douglas County Extension Office;
— $29,150 for grants for soil conservation projects.