Fundraisers planned for popular Baldwin Junior High School teacher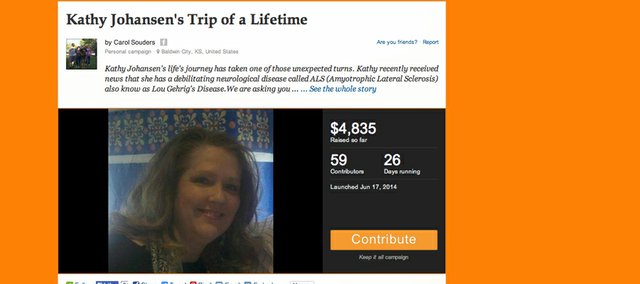 The phrase "life is a journey" is appropriate for a popular Baldwin Junior High School teacher Kathy Johansen. Her life has recently taken a turn on a journey to an unexpected place when she was diagnosed with the debilitating neurological disease amyotrophic lateral sclerosis, also known as Lou Gehrig's disease.
The progressive degeneration of the motor neurons in ALS leads to the neuron's death. When this occurs, the ability of the brain to initiate and control muscle movement is lost, affecting balance, speech and limbs. There is no known cure for ALS, but clinical trials of stem cell treatments are giving hope to slow down the progression of this fatal disease. The closest treatment center using this approach is in Colorado.
Kathy Johansen fundraisers
• Kathy Johansen's Trip of a Lifetime
To contribute, visit FundRazr.com online and type "Kathy Johansen" in the campaign box at top.
• Give Back the Bucks — Run for Kathy
What: This is a "fun run" with no timing or awards provided since it is a charity event. Preliminary plans involve a 5K run, 1-mile walk and a 1-mile kids' Run. Registration fee is a donation.
When:  8 to 8:45 a.m. Aug. 9. Events begins at 9 a.m.
Where: Baldwin City Golf Course
Shirts will be provided to those registered by Aug. 2
Johansen's diagnosis was a big blow to her emotionally as a person but also as a teacher. She has been at Baldwin Junior High since 2000 as the sixth-grade language arts teacher. When her doctor told her she had to quit working and focus on taking care of herself, she was devastated. Even though she could retire after 34 years of teaching, she wasn't ready. She was still having fun and the students adore her.
One of her close friends and colleagues, Ronda Schulte, said, "Kathy is one of those teachers that is in the middle of everything at the junior high, such as sports, bowling, skating, skits, dances, field trips and swim night. She went to everything school-related, and students and parents took notice. She wasn't afraid to embarrass herself if it meant kids were going get excited about learning and love being at school. This was true too with the staff.
"Johansen loves the holidays. Every Christmas, Johansen would walk into each classroom, literally with bells around her neck and sometimes gaudy holiday attire, encouraging everyone to draw names for Secret Santa. She took on this event single-handed. The tradition ended up being a big faculty event, which included a huge breakfast and a lot of laughter. She helped staff members 'lighten up' and enjoy those small, yet important moments."
Right now there are two fundraisers for Johansen. Ronda Schulte and Carol Souders will host the first event, which came from a casual conversation about taking a retirement journey abroad to a dream destination. Without hesitation, Johansen knew it had to be Amsterdam, Holland. Johansen taught her students about the World War II Holocaust for over a decade. Anne Frank's infamous attic room is located there, and she wants to experience it through Anne's eyes. Since Johansen is Scandinavian, this part of the world has special meaning, too. This fundraiser is to help her pay for a plane ticket and a nine-day Scandinavian cruise this August while she still has some mobility.
The second fundraiser, hosted by Kit Harris, Lin Irey and Amy Courtney, is called "Give Back the Bucks — Run for Kathy" and is for Johansen's stem cell transplant in Colorado. Why the name? While teaching Johansen would give her students "J-Bucks" to motivate work completion and good behaviors. Her students earned prizes and looked forward to this exciting quarterly event.
Johansen said her initial response to her diagnosis was fear and feeling alone. But right now she is completely overwhelmed with the number of people who support and care for her.
"I'm not giving up. I'm still here," she said.