Comic book passion to be shared at downtown Baldwin City store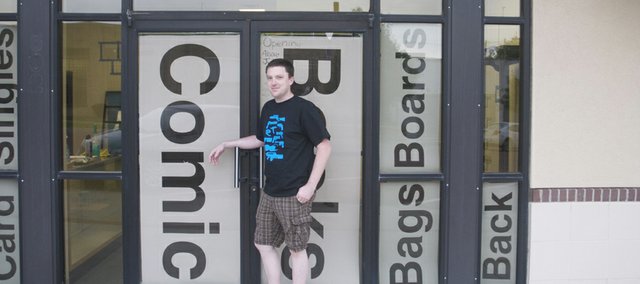 Gabriel Dorsey said his early excitement for comic books was matched with a youthful discovery that there were places devoted to them.
"I've enjoyed comic books since I was about 8 years old," he said. "My dad got me into them when we lived in California. I got them off racks at grocery stores at first. Once I found out there were stores dedicated to comic books, I was pretty excited."
Dorsey's taste has evolved through the years from the superhero comics of his youth to more mature graphic novels, such as those his friend and fellow Baldwin City resident Ande Parks writes. But he still is a fan of all comics and will share the excitement they continue to bring him with the July 18 opening of Bulldog Games and Comics at 606 High St. The store will carry the newest releases of the three major comic book publishers, have 8,000 to 10,000 back issues and popular card and board games, Dorsey said.
"We'll have as many major titles as people want," he said. "DC, Marvel, "The Walking Dead" — all the major publishers. We have all the accounts, which is great. We'll have a pull list of just about everything people could want if it's published."
Dorsey plans activities and events that will make the downtown store a place for people who enjoy comics and games rather than just a place to buy them.
"I want to create a space where kids in and around Baldwin City can enjoy gaming time and events here a little bit like they have in Lawrence and Kansas City," he said.
The store will have a game room where enthusiasts can play popular card and board games. Dorsey said he looked to schedule informal tournaments for such games as The Gathering Storm. Longer, more elaborate ones would be scheduled later once the site was sanctioned, he said.
Dorsey designed the store with parents in mind, too. There will be a separate lounge room with wifi where parents can relax in quiet and comfort while their children are gaming.
He and his wife, Angela, first moved to Lawrence from Dodge City before deciding Baldwin City provided the advantages of small-town living while still offering the opportunity to enjoy the amenities of Lawrence and the Kansas City metropolitan area, Dorsey said.
A graphic artist, Dorsey said he has tried his hand at drawing his own comic but hasn't had anything in print. A statue he made of a comic book character that a Kansas City friend developed helped that comic find a publisher, he said.
His friendship with Parks, whose comic book background includes inking issues of DC's Green Arrow and writing the Lone Ranger for Dynamite Comics, produced connections he will share with local enthusiasts at the store, Dorsey said.
"Ande has introduced me to quite a few people in the Kansas City comic community," he said. "We will have quite a few of them over for signings and events."
One of the writer-artists could be Dorsey, who said he would explore self-publishing his work once the store was open.
"The comic shop will bring a lot of things I love under one roof," he said.