Douglas County administrator recommeds biggest mill levy increase of his career for 2015 budget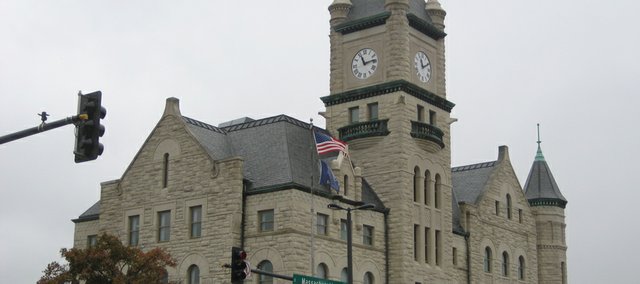 Craig Weinaug is currently helping craft his 23rd county budget and never before in his career as Douglas County administrator has a budget proposed a higher increase in property taxes than this latest one, he said Monday.
Weinaug's proposed 2015 budget puts forward a 3.856 mill levy increase, necessitated mostly by lost revenue from the state government's repeal of the mortgage registration tax, he said.
When asked to describe how big of a hole the state legislative decision created in the county budget, Weinaug said, "This year's probably two and a half time's bigger, because of the mortgage tax, than any other year."
The proposed mill levy increase would raise property taxes on an average $185,000 Lawrence home by about $82. A mill is $1 in taxes for every $1,000 in assessed valuation.
"This (mill levy increase) is particularly frustrating because a good portion of it is money that disappeared for us," Democrat Nancy Thellman, the chairwoman of the Douglas County Commission, said. "That's certainly not all of the issue, but it is part of it."
County commissioners began holding hearings on Monday with outside agencies asking for more funding in the 2015 budget and will continue to do so through Wednesday. The commission is then expected to recommend changes to the proposed budget on Thursday. A final budget will be voted on in August.
Earlier this year, Kansas legislators decided to phase out the mortgage registration tax over five years. The tax provided about $47 million per year to Kansas counties. According to budget documents, about $1.95 million went to Douglas County in 2013.
Because of the gradual, five-year elimination of the mortgage registration tax, Douglas County is still expected to receive $700,000 from it in 2015.
But to make matters worse, funds from the mortgage registration tax are already expected to come up $835,000 short by the end of 2014 because of market variations.
Coupled with the tax repeal, this created a $2.1 million loss in revenue that the county must recoup, Weinaug said. The preliminary budget states that these two factors are responsible for nearly half of the mill levy increase.
The preliminary budget also notes several other reasons, specifically labeled as beyond the county's control, that forced the proposed 3.856 mill levy increase.
Included, among others, is a new state law requiring the county to hire an independent appraiser to assess complex industrial properties; legislation that reduced the assessment rates on watercraft; and the state specifically requesting that Douglas County add more cash to its workers' compensation fund.
All told, about 60 percent of the proposed mill levy increase is due to circumstances outside the county's control, according to the preliminary budget book.
There is some wiggle room, however. Preliminarily, about $889,000 — with a mill levy impact of 0.776 — is tabbed for three programs or initiatives that commissioners could delete. The largest of those three, with an impact of 0.514 mills, is the cost associated with county employee pay range adjustments.
Also included in that group is a program by the Bert Nash Community Mental Health Center that provides mental health services in schools. The preliminary budget has it pegged for $275,000, which has a mill levy impact of 0.240.
Commissioner Mike Gaughan, a Democrat, said the program was once much more "robust" prior to the 2008 recession and that "it's time for us to begin getting back towards where we were before the recession in terms of mental health for kids."
What's been left off the budget — for now, at least — are several programs, initiatives and new jobs that Weinaug said would have been included if the mill levy increase did not already have to be so high.
"What we have to do is look at what revenues we have and what services we need to provide and try to do the best we can to balance the declining revenue and the increasing demand for services," Commissioner Jim Flory, a Republican, said.