Baldwin City Planning Commission to consider development plan for Wal-Mart Express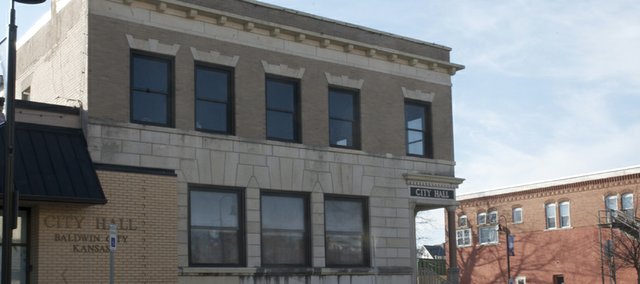 The Baldwin City Planning Commission will consider on Tuesday a development plan for a Wal-Mart Express on a recently replatted property on U.S. Highway 56.
Baldwin City Administrator Chris Lowe said the planning commission would consider the development plan at a 7 p.m. meeting Tuesday at the Baldwin City American Legion Post, 803 High St.
The plan would build a Wal-Mart Express at on an approximate one-square-block lot between Eisenhower and Washington streets just north of U.S. 56.
Wal-Mart Inc. developed the smaller-store Wal-Mart Express model as a way to get into new markets closer to shoppers, Wal-Mart spokesperson Bill Wertz said Thursday. The stores are typically about 12,000-square feet, have fuel pumps, pharmacies with health and beauty products, seasonal merchandise and a grocery department with fresh produce, meats and dairy, he said. They also offer a "site-to-store" service, which allows online shoppers to pickup merchandise ordered from other Wal-Mart stores, he said.
It takes about four months for the stores to open after they are approved, Wertz said.
The City Council approved a replatting of the commercially zoned property at its June 16 meeting. That action, which modified a plat that had been in existence since the 1890s, consolidated three property parcels into one and eliminated a north-south alley and sewer easement through the center of the property. The new plat moved the sewer easement to the west side of the property.
Lowe said neither city staff nor the City Council knew at the time of the re-plat that Wal-Mart planned a store on the site. The request was made in the name of property owner Roger Johnson, and city staff worked with the engineering firm BFA, he said.
It was only last Thursday that the city got the first documents with the name Wal-Mart on them, he said. It didn't get official notification until late Tuesday afternoon that Wal-Mart proposed building a Wal-Mart Express at the site, he said.
"That was in response to a request from us, really," Lowe said. "We had got so many calls, I called them and made the request."
Wal-Mart's intentions got out because it posted at its Ottawa distribution center a flier seeking employees for a store in Baldwin City and through an advertisement for a pharmacist, Lowe said.
The proposed Baldwin City store was of the size Wertz said was typical of Wal-Mart Express stores and would include a fuel station, pharmacy and grocery market, Lowe said.
The city has the obligation to handle the request as all others, Lowe said.