Baldwin City opposition quick to develop against Wal-Mart Express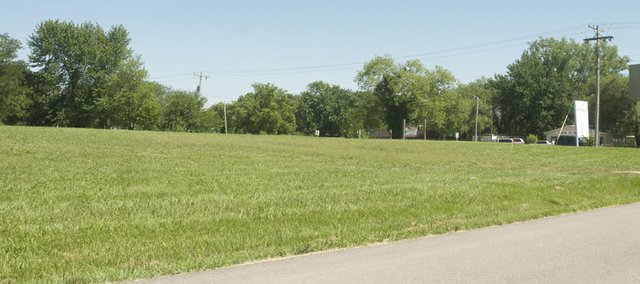 Soon after signing a petition Thursday opposing the opening of a Wal-Mart Express in Baldwin City, Janice Craig started to explain her opposition.
But before she could speak, Craig was interrupted by a man firmly stating his stance. Wal-Mart's presence would "ruin the town" by closing existing businesses and ultimately shrinking the tax base, the man said. If people wanted to go to a Wal-Mart, there were three within a 20-minute drive, he said.
"I agree with what he said," Craig said. "We don't need this in Baldwin City."
Craig had just signed a petition against Wal-Mart opening a Wal-Mart Express in Baldwin City and taken a small flier with the times and dates of Monday's Baldwin City Council meeting and Tuesday's Baldwin City Planning Commission meeting.
She was going to attend both, Craig said.
Planning commissioners on Tuesday will consider Wal-Mart Inc.'s development plan for a Wal-Mart Express for a lot north of U.S. Highway 56 between Washington and Eisenhower streets. The meeting will be at 7 p.m. at the American Legion Post, 803 High St.
The petition Craig signed was on the Baldwin City Market's informational booth's counter while three others were placed on the counters of the grocery store's check-out lanes. Baldwin City Market clerk Katlyn Pratt said city residents had already filled one petition sheet from the informational counter and half the 20 slots on the one Craig signed had been filled. The same counter material can be found at other Baldwin City stores.
Like the unidentified man, residents were vocal in their opinions, Pratt said. Most were against the Wal-Mart plan because they were afraid it would close Baldwin City Market, the city's two pharmacies, the hardware store and other businesses, she said. It was a stance Pratt shared, saying the store would not only chase existing merchants out of business but dissuade others from opening stores in the community.
"It's not that we're opposed to Wal-Mart," she said. "We just don't need one here."
Those in favor of the store opening said it would bring needed competition and help the city grow, Pratt said.
Baldwin City resident Karla Wessling said she started the petition drive after hearing of the Wal-Mart plan. She shared the same concerns as those expressed at the grocery store.
"I have the concern of Wal-Mart putting our local businesses out of business, devaluing the ones that stay open and devaluing homes near the store," she said. "We're a small town. We need to support our small-town local businesses. This would not be good for the local economy. The money spent there would go straight to a CEO in Bentonville, Arkansas."
Wal-Mart spokesperson Bill Wertz said a significant target of the Wal-Mart Express would be existing Wal-Mart customers.
"What we find is people will drive 30 miles or more to a Wal-Mart store," he said. "The Wal-Mart Express will allow them to shop closer to home. Couple that with the site-to-store service where items ordered online from other stores will be delivered for pickup and it will open up a wide range of merchandise not available previously in the community."
Wertz said local retailers would benefit from the Wal-Mart Express because it would keep Wal-Mart's regular customers in Baldwin City.
"If you have to drive down the road to get to a Wal-Mart, chances are you're going to do additional shopping there," he said. "Having people shop at home is a good thing. Being near a Wal-Mart helps other businesses because of the customer traffic we attract. It makes it convenient for them, as well."
Frank Foye, who owns the Santa Fe Market, said he wasn't happy about the prospect of the store opening up four blocks away down the highway. It would offer direct competition for fuel sales and the quick get-and-go goods he sells in the convenience store.
On the other hand, America has a free market economy and other businesses have the right to explore opportunities, Foye said. It would be up to him to make sure his business made changes needed to survive, he said.
He had read about Wal-Mart Express stores in trade magazines and some Kansas convenience store owners went to Arkansas to investigate them, Foye said. From their size and inventory, his opinion — and one shared in online business stories — was that they targeted such retailers as Dollar General and Walgreens.
From her vantage point at Baldwin City Market, the store's size also was wrong for Baldwin City, Pratt said. The Wal-Mart Express would be large enough to hurt the local grocery store but not big enough to serve Baldwin City as a full-fledged community market.
Wessling said her husband had researched what other towns had done to successfully prevent Wal-Mart from expanding into their communities. The key, she said, was a solid front of opposition.
"I'm pretty sure they showed up at zoning and planning commission meetings," she said. "Wal-Mart doesn't like to have bad press. If we make enough noise, hopefully they will back out."