Trolley now offering historic tours of Baldwin City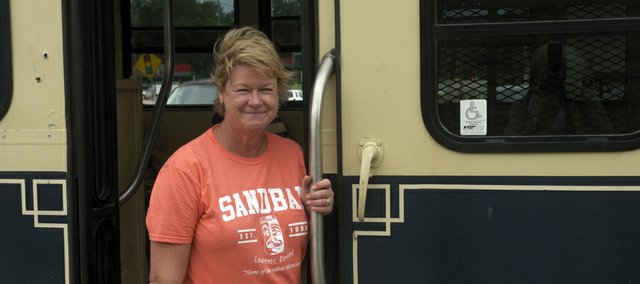 Clara and David Smith stepped off the community's new tour trolley bus Saturday knowing much more about Baldwin City's history.
"We knew the basic details, but we got a lot more information, especially at Black Jack," Clara Smith said. "The next time our grandkids come for a visit, we're going to get them to take the tour."
Their comments pleased Peach Madl, who has served as tour guide since the bus started giving Saturday tours June 14. She said the bus, which the Baldwin City Tourism Council and Baldwin City Economic Development Commission purchased using city bed tax funds with the City Council's support, has been used to give Saturday tours of community historical sites since June 14.
Madl, a member of the tourism council, dusted off the script Tom Plumberg used when he gave a Saturday tour of the community and added details Baker University's Steve Rottinghaus and others provided on the community's historic sites.
"I try to keep it informative and entertaining," she said. "It's so much fun. I love every minute of it."
Madl said the Saturday tours leave from The Lodge Motel, which she and her husband, Ted, own, after she makes an all aboard announcement at the neighboring Baldwin Diner. The 45-minute tour then travels to the Kansas Belle Dinner Train, Santa Fe Depot, Women's Bridge on High Street, downtown and Baker University before concluding with stops 3 miles east of town at the Santa Fe Trail ruts and neighboring Black Jack Battlefield and Nature Park.
The tours, which are offered from 10:30 a.m. to 1 p.m. Saturdays, usually take about 45 minutes, but the final trip Saturday was nearly twice that long when they found Black Jack Battlefield Foundation board member Kerry Altenbernd at the site. Madl said he gave her and the passengers a detailed account of the Civil War's first conflict between armed militias.
"It's the first time there was ever anyone there when we stopped," Madl said. "He was very informative and helped me understand a lot of the details of the battle."
The 33-seat trolley was purchased from a South Dakota mining company, Madl said. It had to be delivered on a flatbed to Baldwin City and needed some maintenance work, including a rebuild of its air conditioner, before it was put in service locally.
The Smiths took the tour in the trolley's enclosed and weather-controlled front section.
"The wooden seats look nice," Clara Smith said of the bench seating. "It was very comfortable."
Passengers can also sit in an open-air rear section.
"It has windows that we can put in to close it off," Madl said, adding that the trolley would get a paint job and some interior wood refinishing.
A third of those taking the tour the first three weeks were from Baldwin City or the area and most of the others were guest of The Lodge, Madl said. The tour is free and she expects ridership to increase as word gets out.
The Women's Bridge on High Street, built in 1890 after the election of a female mayor and all-woman council so that women could cross Tauy Creek without getting the long skirts of the day muddy, is popular as is the story of how they lost their seats after passing ordinances forbidding cigar smoking, working on Sunday and having cattle on streets, Madl said. Another visitor was fascinated by the Santa Fe Trail ruts, she said.
"We may look at adding more sites in the future, but we thought this would get us started," Madl said.
The trolley will run from May 1 through October, Madl said. It will also visit Ottawa on special occasions, where it will pick up passengers from the south terminus of Midland Railway for a tour of historic sites in that town.
"We'll use the railway to connect tourism in both communities," Madl said.
The first year's expenses will be paid with the bed tax fund and some money from the Kansas Soybean Commission, which has kicked in because the bus uses bio-diesel, Madl said. The tourism council is looking for other funding sources next year, including support from the Freedom's Frontier National Heritage Area, a group affiliated with the National Parks Service that promotes historic sites like Black Jack in eastern Kansas and western Missouri. Madl said the group would have one of its regular meetings at The Lodge in July.
Madl said she was also seeking local volunteers to help with the tours.
"I would like to have four then we could take turns every week," she said.