Baldwin City to have red, white and blue Fourth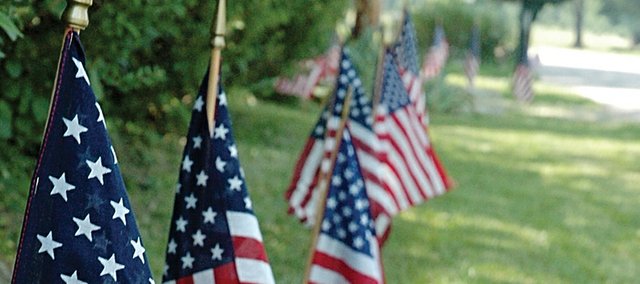 Baldwin City is set for a full day of red, white and blue fun for the Fourth of July.
Palmyra Masonic Lodge No. 23 will partner with Baldwin Boy Scout Troop 65 and a number of community organizations and businesses to get everyone in the proper patriotic spirit with the placement of small American flags on the city's yards. The combined effort will continue a community tradition Krystal Williams began 19 years ago.
Fourth dos and don'ts
Baldwin City Police Chief Greg Neis and Fire Chief Allen Craig are reminding residents of a few dos and don'ts to better enjoy Fourth of July celebrations.
Fireworks went on sale today at three stands in Baldwin City and can be discharged from 8 a.m. to 10 p.m. today and Wednesday and from 8 a.m. to midnight Thursday and Friday. Residents are also reminded that the discharge of possession of bottle rockets and similar devices are illegal within the city limits, and anyone caught with them will receive a citation.
Furthermore, it is illegal to shoot fireworks on or under a vehicle, on any public roadway, within 50 feet of a firework stand or where fireworks are stored, and gas stations or any place liquid gas – including propane – is stored.
Neis and Craig recommended residents review the Kansas State Fire Marshall's recommendations on the use of fireworks. They are:
• Always read and follow label instructions.
• Always purchase high quality fireworks from a reliable, legitimate source.
• Alcohol and fireworks do not mix. Have a "designated shooter."
• Never give fireworks to small children.
•Adults should always supervise use of fireworks by older children.
• Always wear eye protection when lighting fireworks.
• Never ignite fireworks indoors. Make sure your outdoor area is safe for firework use.
• Never point or throw fireworks at a person, building or animal.
• Have a source of water handy in case of fire.
• Never shoot fireworks in metal or glass containers.
• Light only one firework at a time.
• Never attempt to re-light malfunctioning fireworks.
• When lighting fireworks, never position any part of your body over them.
• Never carry fireworks in your pocket.
• Store fireworks in a cool, dry place.
This year's donations for the yard flags came from the Baldwin City American Legion Post, Baldwin State Bank, Kansas State Bank, Mid-America Bank, the Baldwin City Rotary Club, Kelly Neufeld and Farm Bureau Insurance, Frank Foye and Santa Fe Market, Claudia Hey and Ad Astra Alpacas and the city.
The community celebration will start with a free swim day at the municipal pool. Baldwin City Recreation Commission director Steve Friend said the pool would be open from 1 to 5 p.m. Friday with free hotdogs, games, prizes and a deejay.
In addition, there will be an inflatable water slide and carnival spinning ride set up in the park near the pool, Friend said.
Activities will move to the grounds of the Baldwin Elementary School Intermediate Center and neighboring ball parks during the evening hours. Friend said the Satchel Green Band would entertain from 7:30 to 9 p.m. There will also be kickball games on the ball fields at the time.
The evening will conclude with the annual fireworks show about 9:30 p.m. Friend said $5,000 worth of fireworks will be shot up in what should be a 30- to 35-minute display.
The BCRC will accept donations for the 2015 fireworks show from those attending the event, Friend said.