Baldwin girls fall in semi-final game in Wellsville tourney.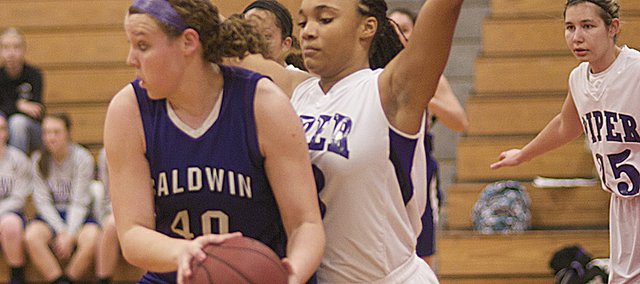 Wellsville — The Baldwin High School girls fell to KC Piper, 44-40, after building 10-point leads in both halves of their semi-final game Thursday in the Wellsville Top Gun Classic.
The Bulldogs started the game like they were going to run Piper out of the gym, scoring the contest's first 10 points, six of them off fastbreak layups.
Piper, winners of seven-straight games coming into the contest, started chipping away at the lead, closing to within five at 14-9 at the end of the first quarter. The Pirates sliced away at the lead until tying the score at 17-17 with 2:30 remaining in the second half. Piper was aided when Baldwin junior forward Maddie Ogle was forced to go the bench with three foul in the first minute of the second quarter. Still, the Baldwin managed to turn back the Piper charge to take a 23-19 lead to the locker room.
Piper quickly erased that lead, scoring the first five points of the second half. That seemed to awaken the Bulldogs, who then scored the next 11 points of the game to go up 34-24.
Baldwin's undoing was the fourth quarter when the Bulldogs were outscored 15-6. Leading, 34-29, when the quarter started, the Bulldogs hit only 2-of-5 free throws, saw another made free throw wiped out by a lane violation, turned the ball over in crucial situations and missed layups in the game's final eight minutes.
As a result, the usually reliable Baldwin offense put up only six points in the game's final eight minutes.
Baldwin coach Bob Martin said it was a game the Bulldogs let get away.
"Absolutely, we didn't execute down the stretch and lost our composure," he said. "We missed a ton of shots all night."
Baldwin will now play in the tournament's third-place game against the loser of the Bonner Springs-Spring Hill game. The game is scheduled to start at 3:15 p.m. Saturday.
KC Piper 44, Baldwin 40
Baldwin 14 9 11 6 - 40
KC Piper 9 10 10 15 - 44
Baldwin scoring: Sierra Hall 2, Karina Steinke 2, Maddie Ogle 6, Madeline Nuefeld 6, Katie Jones 5, Kyna Smith 2, Corey Valentine 8, Alexia Stein 7, Hailey Cope 2
Piper scoring: Haley White 14, Lexsi Owens 3, Maya Morrow 7, Megan Woolley 11, Carley Zwart 3, Tori Webb 6