Five places to connect with Baldwin City's past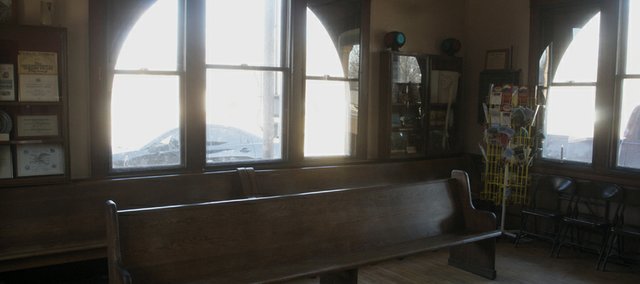 Baldwin City and the surrounding area offer a wealth of sites to connect with the community's rich history. Best of all, visits are free, although donations to some are welcome.
1. Memorial fence at Liston Stadium
Who were Lionel Anders, Lloyd Green, Thomas Beecher, Glen Coons, Lloyd Beaton, Lloyd Geoffroy, Minor Fitzer, George Giles, Albert Torrey, Lewis Smith, Kenneth Lewis, Mark Shepard, Russell Wilson, Harold Leach and St. Clair Harkly?
No one born in the past century could truly answer that question, but some alert Baldwin City residents probably recognize the names as those on 15 plaques that adorn columns on the Memorial Fence enclosing the west side of Liston Stadium. The men died from 1917 to 1919 in such places as Passchensdale Ridge in Ypres, Belguim, Soissons, France, the Argonne Forrest, statewide training camps or in Germany soon after hostilities ended. A larger plaque identifies them as among the Baker University students who served in World War I, or the Great War as it was know when the wall was dedicated on Nov. 11, 1939.
2. Quayle Bible Collection
One of the prizes of the Quayle Bible Collection, a 1611 St. James Bible, was featured just more than two years ago on the cover of National Geographic Magazine. That notoriety prompted an increased interest in the collection of rare manuscripts, which started with the Bishop William Qualye's donation in 1925 of a collection of 250 Bibles and rare books. The collection is of interest in itself but is also an insight into the faith of a man important to Baldwin and Baker's history.
Of added interest through July is the exhibit "Illuminating the Bible: Woodcuts and Engravings." The collection and exhibit can be found in the Helen Foresman Spencer wing of Collins Library. Hours are 1 to 4 p.m. Saturdays and Sundays or by appointment. Call 785-594-8414 or email quayle@bakerU.edu to make an appointment.
3. Santa Fe Depot
The interior Santa Fe Depot is little changed from its heyday as the community's transportation hub. What's missing are the crowds of those waiting to board the daily trains for an outing to Ottawa, Lawrence or Kansas City, or long trips to faraway destinations.
The Midland Railway and Kansas Belle Dinner Train still supplies the depot with waiting visitors, but it also makes for a diverting place to spend a few minutes absorbing the community's past. You can also take a few minutes to visit Midland Railway's gift shop with its many books on local, Kansas and railroad history in the south waiting room.
4. Old Castle Museum
The three-story limestone Old Castle at 515 Fifth St. is itself a historical treasure. It was the state's first college building when Baker University was founded in 1858. It now houses Baker, early Kansas and Methodist artifacts. On the same lot is the Palmyra Post Office, which served the community from 1857 to 1862, and a reproduction of Kibbee cabin, in which Methodist ministers met to found the college. To schedule a tour of the Old Castle Museum, call 785-594-7800.
5. Black Jack Battlefield and Nature Park
The Black Jack Battlefield and Nature Park site offers more experience where the first armed conflict between pro-slavery and abolition forces fought on June 2, 1856. The
40-acre site is also home to Robert Hall Pearson Homestead, and across East 2000 Road are visible ruts the wagons plying the Santa Fe Trail etched. Both are within easy walking distance of the Ivan Boyd Prairie Preserve.
The battlefield is accessible throughout the year. Tours of the battlefield and homestead are available on Saturday and Sunday from April through October. To learn more about the battle field, visit blackjackbattlefield.org.