Cheerleading transforms Baldwin High School sophomore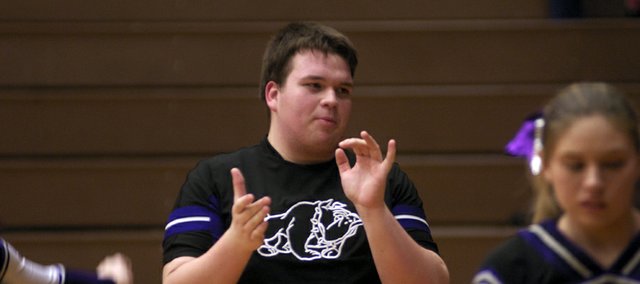 It's hard not to notice Baldwin High School cheerleader Spencer Young as he races to his spot on the basketball floor during a timeout.
The sophomore's 5-foot, 10-inch husky frame stands in contrast to the nimble girls who scale up the three tiers of a pyramid or do back flips the length of the court. And it is impossible to overlook he's the only male on the team.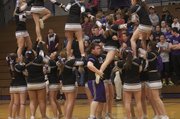 Ask fellow sophomore cheerleaders about Adrianne and Candace Brown about Young, and they'll respond with the same enthusiasm they share with crowds during games.
"He brings us strength, spirit and loudness," Adrianne Brown said. "What's a better word for loudness?"
"Volume," Candace Brown responded.
The twins are responsible for Young being on the team, having first recruited him to the Baldwin Junior High School eighth-grade cheer squad.
"We asked him to come out because he wasn't in anything else and was in all our classes," Candace said.
"He's a great friend," Adrianne added.
Young joined the eighth-grade team, but skipped cheering his freshman year in high school before joining the 2013-2014 team last May.
"I joined, and I'm glad I did," he said. "It's hard to put into words what being in cheer means to me. The atmosphere, the feeling of being part of a team — it's the perfect thing for me."
Baldwin High School cheerleading coach Patty Lenning agreed with the Browns' summary of Young's assets. But she pinpointed his personality as his biggest contribution to the team.
"Spencer is really liked by everybody," she said. "His attitude and personality really helps our team. He's a great worker and so happy go lucky."
That's not to say his cheer coach doesn't appreciate what Young brings to the team physically. Although the cheer squad hasn't added any new routines because of Young, his presence does make some "bigger" and more noticeable, she said. That strength is a result of a transformation Young has made since he joined the team in May and started a training regimen that included weightlifting.
"He's lost 30 pounds since he started," she said. "I used to coach volleyball and track, so I work them hard."
Rebecca Young is delighted with her son's physical transformation, which has allowed him to get off medication prescribed for type 2 diabetes.
"His pediatrician was shocked," she said. "He asked Spencer if he was taking his medication and he said, 'No. I don't need it.' Blood test confirmed he was right.
"He's eating right and working out. I'm just so pleased."
The trimmer, stronger Young may get the attention of Bulldog football coach Mike Berg looking for help rebuilding an offensive line losing quality seniors.
"Riley did that his senior year," Lenning said. "He was on the football team and the cheer squad."
Riley would be Riley Grammer, a 2012 BHS graduate and the school's first male cheerleader. He now is a scholarship member of the Kansas University cheerleading squad. Although he is an example and mentor to Young, the sophomore said he wasn't interested in giving up the cheer team next fall for football.
"There's not a chance I'll do that," Young said.
Young already has a scholarship offer from Coffeyville Community College, which as a "very good" program, Lenning said. He is working on skills, such as gymnastics and the ability to hold a female partner above his head, which will open more scholarship opportunities.
"I'm working with Riley on that," Young said of lifting a co-ed partner. "I can't do backflips yet. They're tough."
The team will take part in competitions in February, which will give Young and other squad members a chance to gain further notice from colleges.
While he works on his skills to improve future opportunities, Young remains dedicated to his and the team's important job of creating an atmosphere that helps BHS teams succeed.

"That's our job," he said. "We definitely have something to do with how successful the teams are."