Baldwin girls crush St. Marys in first round of Wellsville tournament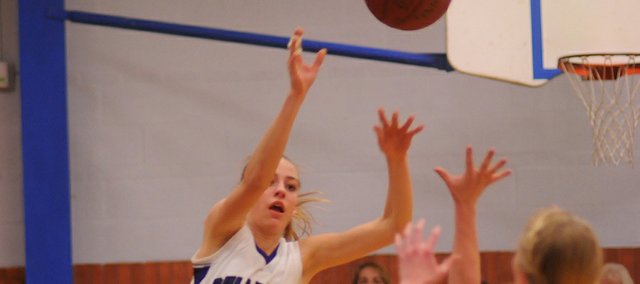 Wellsville — The Baldwin High School girls Tuesday cruised to an easy 56-25 victory against St. Marys in the first round of the Wellsville Top Gun Tournament.
The Bears brought a seven-game losing streak into the contest and the game was never in doubt because of the effectiveness of the Bulldogs defense. Baldwin's press and aggressive half-court defense forced St. Marys into 21 first-half turnovers and limited the Bears to just nine points in the game's first 16 minutes.
Baldwin's offense was a bit stagnant early, but started to come around when senior guard Katie Jones connected on a three-pointer with 2:45 in the first quarter, giving the Bulldogs a 7-3 led. From that point on, Baldwin outscored the Bears 21-6 the remainder of the half.
"We weren't really smooth on offense," Baldwin coach Bob Martin said. "Obviously, our pressure bothered them. It's a good start."
The lop-sided score allowed Martin to rest his starters and get reserves plentiful playing team. Junior Sierra Hall responded with eight third-quarter points, six from three-pointers, and junior Emily Simpson added five points in the fourth quarter.
Baldwin advanced to play the winner of the Anderson County-K.C. Piper game the Thursday's semi-final round of the tournament.
It was Baldwin's second-straight runaway win. The Bulldogs on Friday defeated Osawatomie 79-17. The game was more one-sided than the score as the Bulldogs led 25-2 after the first quarter.
Baldwin 56, St. Marys
Baldwin (8-3) 14 14 19 9 – 56
St. Marys (2-8) 4 5 8 8 – 25
Baldwin scoring: Sierra Hall 8, Emily Simpson 5, Maddie Ogle 15, Madeline Nuefeld 4, Katie Jones 10, Corey Valentine 2, Lily Fursman 2, Alexis Stein 8, Hailey Cope 2
St. Marys: Kati Kolde 7, Madi Perry 1, Stephani Robbins 3, Maria Moylan 7, Malory Mitchell 7
Baldwin 79, Osawatomie 17
Baldwin 25 25 18 11 – 79
Osawatomie 2 7 2 6 – 17
Baldwin scoring: E. Simpson 10, Karina Steinke 2, M. Ogle 19, M. Nuefeld 4, K. Jones 8, Kyna Smith 4, Emma Stewart 4, C. Valentine 11, A. Stein 2, H. Cope 13