Questions drive Baldwin City students' efforts for science fair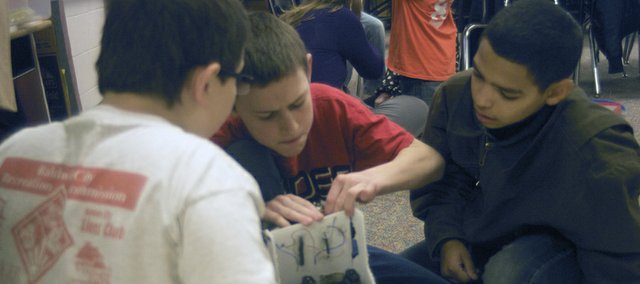 Questions drive science, and two Baldwin Elementary School Intermediate Center fifth-graders have solved a vexing one involving Skittles and Starburst.
Their science project, which fifth-graders Jewel Marsh and Tavia Crowe will present at the Baldwin district elementary science fair from 6 to 7:30 p.m. Thursday at the Primary Center, examines which of the two candies dissolves quicker and why.
If you go
What: Baldwin elementary school science fair and Chris Cakes benefit pancake feed
When: 6 to 7:30 p.m. Thursday
Where: Baldwin Elementary School Primary Center
The two girls found experimental results confirmed their hypothesis.
"Skittles dissolves much faster because they have more sugar content," Marsh said.
Crowe, Marsh and their classmates in Heather Wallsmith's Intermediate Center fifth-grade class have been working on their science fair projects since returning from Thanksgiving break.
"It takes about seven weeks," Wallsmith said. "We only spend 30 minutes a day. We start with planning and researching the scientific method."
The students picked their own projects, some with help from an educational science website, but the projects are "100 percent their work," Wallsmith said.
No elementary school science fair would be complete without a model volcano, and Brooklyn Butell, Bailey Hulee and Emma Pratt will supply one for Thursday. Surprisingly, their clay and paper mache cone is an experiment in chemistry, not geology. Eager to talk about the project, three girls spoke at once once Friday to explain that the volcano tests what happens when baking soda "oxygenates" in mixture with the catalyst vinegar. Red dye and dishwashing soap add to a "cool" volcano effect, Pratt said.
But not all their classmates' projects are as focused on pure or experimental science. While Marsh explained details of the candy experiment, a classmate was on her cellphone calling to ask people how they rated their educational experience.
Wallsmith explained the conversations were part of a poll a science fair team was doing on the value of education. It was social science, but the project had the team preparing graphs and statistical analysis to support its conclusions, she said.
Team members Sterling Judy, Donavyn Phillips and Caden Wintermantel chose the engineering challenge of attempting to build a battery powered car faster than off-the-shelf remote-controlled cars.
They decided they could do so if they beefed up the batteries.
"I was thinking about motors and talking about motors from model cars," Wintermantel said. "I thought we could make one faster if we used different batteries."
Judy said his dad supplied the bigger batteries from those that provide juice to power drills. With that, the team members pulled apart remote-controlled cars for components while fabricating axles on other key parts and soldering in the electrical controls.
"We thought about making it remote controlled, but we're going to have to turn it on and put it on the floor," Wintermantel said. "It's going to be fast."