Arbor Day Foundation recognizes Baker University's Baldwin City campus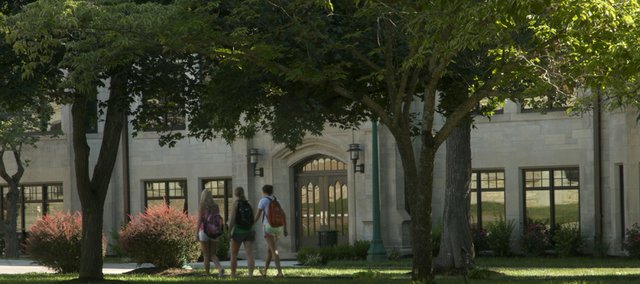 The Arbor Day Foundation has recognized Baker University as a 2013 Tree Campus USA for its commitment to promoting healthy trees and engaging students and staff in the spirit of conservation. Baker has been honored four consecutive years by the foundation.
To be honored, Baker met the five-core standards for effective campus forest management: a tree advisory committee, a campus tree-care plan, dedicated annual expenditures for its campus tree program, an Arbor Day observance and student service-learning project.
'Trees are a vital component of campus infrastructure and landscaping," said John Rosenow, chief executive of the Arbor Day Foundation, based in Lincoln, Neb. "First, properly-placed trees create a welcoming space for students, staff and alumni, providing much-needed relief from heat and a quiet place to reflect or study. Second, trees keep our air and water clean and remove harmful pollutants. Third, trees, save money by reducing energy use and improving storm-water management."
Tree Campus USA, a national program launched in 2008 by the Arbor Day Foundation and Toyota, honors colleges and universities and their leaders for promoting healthy trees and engaging students and staff in the spirit of conservation. Baker was the first university in Kansas to be honored as a Tree Campus USA. Tree Campus USA is supported by a generous grant from Toyota.
"Thanks to the hard work and dedication of Steve Wright and his ground crew we are in the process of maintaining the beauty of the trees on campus and replacing those that have been loss because of the drought over the past several years," said Roger Boyd, Baker University's director of natural areas. "We take pride in managing our resources to reflect a welcoming environment to our students and visitors."
The Ivan Boyd Arboretum, established on the Baldwin City campus in 1978, has approximately 450 trees on the main campus and 114 species. The university annually adds species to the arboretum.
Members of the Arboretum Committee are Boyd; Katelyn Doolittle, student representative; Chris Hamill, a member of the Baldwin Tree Board and local nurseryman; Maurice McClure, groundskeeper; Nate Poell, technical services librarian; Jeremy Portlock, director of the physical plant; and Steve Wright, Baker grounds-crew member.