Baldwin boys retain
BIT

title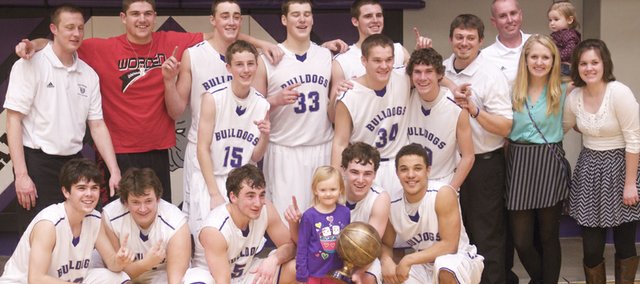 The Baldwin boys defended their Baldwin Invitation Tournament Title on Saturday with a hard-fought 61-57 victory against Augusta.
The game was tight throughout with the Bulldogs grabbing the largest lead either team enjoyed in the contest early in the fourth quarter at 45-40. Baldwin senior guard Chad Berg, who had 10 fourth-quarter points, gave the Bulldogs the five-point edge when he hit a free throw after scoring on a driving layup. Augusta quickly erased the deficit with a six-point run, which concluded with Oriole senior Kyler Steinkamp hitting a free throw after being fouled while scoring on a breakaway basket.
The lead would change hands four times in the next three minutes before Berg drove the lane again to convert another traditional three-point play with 2:13 to play.
Baldwin coach Dustin Leochner said Berg's points came off the offensive as he exploited gaps that opened from ball movement or screens.
"Chad was big tonight," Bulldog coach Dustin Leochner said. "Chad and Cornell (Brown) and fast enough to get to the basket and strong enough to finish. They've played for me and together so long, I trust them to know when they think they can make a play."
After holding Augusta on the Orioles' next possession, Baldwin senior Michael Burton tipped in a missed shot to give the Bulldogs 57-53 cushion with 1:09 remaining.
Augusta would bookend a Luke Fursman free throw, shrinking the lead to 58-57 with 24.4 seconds remaining. On the ensuing inbound play, guard Cornell Brown got behind Augusta's defense, gathered in an over-the-shoulder pass and scored a layup, giving Baldwin a 60-57 lead.
Leochner was proud of how his team fought and executed when the game was on the line against a tough Augusta squad, which started four seniors.
"We were able to make more plays in the fourth quarter," Baldwin coach Dustin Leochner said. "I told them in the huddle after the third quarter, they (Augusta) weren't going away. It would come down to who wanted it more and who could make the hustle plays to get the loose balls and rebounds."
Four Baldwin players ended in double figures, led by Berg's game-high 18 points.
"That's the way it is with this team," Leochner said. "They're willing to share the ball and get it to the hot hand."
Baldwin 61, Augusta 57
Baldwin (11-1) 18 12 12 19 – 61
Augusta (9-3) 15 13 12 17 – 57
Baldwin scoring: Cornell Brown 14, Tim Craig 2, Chad Berg 18, Luke Fursman 12, Michael Burton 4, Quinn Twombly 11
Augusta scoring: Chaydon Carter 5, Kyler Steinkamp 13, Tristan Finch 1, Dustin McEachern 10, Connor Hurst 12, Sean Brandenburg 10, Brandon Smith 3, Cody Wesbrooks 3