Baldwin boys sharp in semi-final
BIT

victory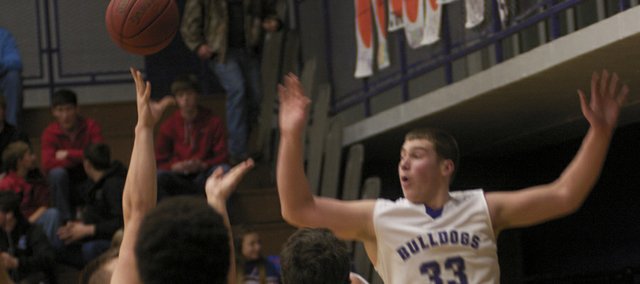 On the Baldwin boys' first offensive possession in Friday's semi-final Baldwin Invitation Tournament game against Bonner Springs, point guard Cornell Brown treaded a pass down the lane to center Quinn Twombly, who quickly posted up the game's first two points.
The play foreshadowed things to come. Baldwin picked apart the Braves defense with pin-point passing throughout the night on its was to an easy 72-60 victory.
Coach Dustin Leochner said an unofficial game chart had the Bulldogs with 14 assists against only four turnovers. The team has focused on the assist-to-turnover ratio with point guard Brown making it a point of emphasis, the coach said.
Inside players Twombly, Michael Burton and Luke Fursman made Friday's sharp ballhandling display a team effort.
"We shared the ball really, really well at times tonight," he said. "The big guys — I told them after the game — there's not a lot of big guys who can pass the ball and throw the ball like you did tonight."
The unselfishness again led to a balanced scoring attack. Brown and Burton shared team-high scoring honors with 14 points. Fursman was also in double figures with 13 points, while Chad Berg (9 points), Tim Craig (8 points) and Twombly (8 points) were just out of double figures.
Leading 11-10 with 3 minutes to play in the first quarter, Baldwin would go on a 14-3 run in the next six minutes to take a 25-13 advantage and never allowed Bonner Springs back into the game.
The Braves attempted a comeback in the third quarter on the strength of three-pointing shooting. Bonner's Brenden Dotson and DeVante McGee would both connect twice from behind the arc, but the Braves never closed to with 10 points.
Baldwin answered the Braves' long-range shooting with layups and open shots in the lane, carving up Bonner's other attempt to get back in the contest, a 2-1-2 three-quarters zone trap.
"When they went to that zone trap, we got it down to the baseline and just solved it," Leochner said. "There were some fun things to watch tonight."
Bonner Spring' shooting cooled in the final period, while Baldwin continued to get transition baskets and execute in the half court. The Bulldogs built their lead to 70-50 with 2 minutes to pay before Leochner sent in the reserves.
Baldwin will play Augusta at 5:30 p.m. today in the tournament's championship game. Augusta edged Wellsville, 58-55, with a three-point basket at the buzzer, improving to 9-2 on the season. Leochner said it would be interesting to see how his team fared against a quality team from the western half of the state.
Baldwin 72, Bonner Springs 60
Baldwin 15 20 18 19 – 72
Bonner Springs 11 11 17 21 – 60
Baldwin scoring: Cornell Brown 14, Time Craig 8, Chad Berg 9, Jackson Barth 6, Michael Burton 14, Quinn Twombly 8
Bonner Springs: Aaron McGee 16, Zshavon Dotson 6, Brenden Dotson 8, Travis Dooley 4, Jordan Jackson 3, DeVante McGee 12, Jonah Freese 2, Connor Byers 2, Antonio Roark 5, Josh Adams 2