Baldwin City home inspector stays busy despite sluggish housing market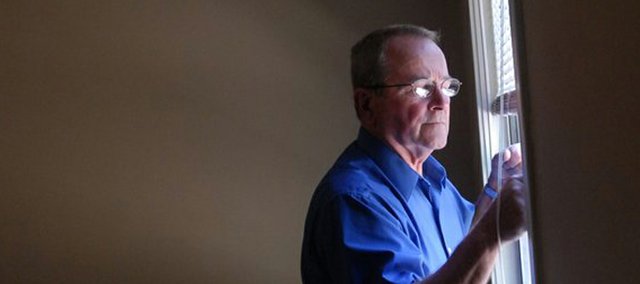 If you bought a home in Baldwin City in the last decade, it's probable Steve Bauer knows parts of it better than you.
Bauer and his wife, Alison, own Bauer Inspection & Consulting Services. Alison answers the phone and schedules the inspections that Bauer performs throughout northeast Kansas. Most are done for homebuyers before closing, but he also does inspections for homeowners wanting to know what they need to correct before putting homes on the market.
Alison said her husband was a certified home inspector in Texas when he relocated to Baldwin City with their 1998 marriage. At that time the state had no licensing requirements for the service. Bauer has since worked with State Sen. Tom Holland to develop certification standards for Kansas, she said.
As of Thursday, Bauer has inspected 13,842 homes or commercial properties in his career, Alison said.
A one-time ceramics engineer in the glass manufacturing industry, Bauer got into the business out of a desire to be his own boss. He first did inspections in Colorado and later in Texas.
"I wanted to go into business for myself," he said. "I bought a couple of rental properties. I did the work on them myself and started doing work for other people.
"That's what got me started, and I've never looked back. Being self-employed, that's the way for me. It's a lot of work though."
It's more work when done right.
"I get on the roof, get in the attic and, if there is a crawlspace, get under the house," Bauer said. "It's a big investment, so they need to know. My job is to make sure there are no big surprises."
His thorough inspections are shared with clients before he leaves the premises in the form of 20-page reports with color photos produced with a computer and two printers carried in his van.
"It's a pretty detailed report," Bauer said. "It's really a review for them, because I go over everything with them. If there's a bad seal on a window or rotted sill, I show them where it's at with a photo."
There's a demand for that kind of attention to detail. Bauer said he travels as far south at Garnett and as north to Valley Falls and Holton. He does inspections in Johnson County, although he doesn't market there, he said.
The Bauers said business didn't fall off much with the recession.
"I probably haven't had a year with less than 650 inspections since 2000," Bauer said. "There really wasn't a let down."
In 2012 and 2013, Bauer did more than 700 inspections. The sale of foreclosed homes that came on the market during the depths of the recession helped bump that number.
Seven hundred number is about his limit, Bauer said. To help with the demand, the Bauers' nephew Mike Danduarand has joined the business. As a licensed construction engineer in Kansas and Missouri, he can apply his stamp to a structural inspection, Bauer said.
"He's a pretty sharp young man," he said.